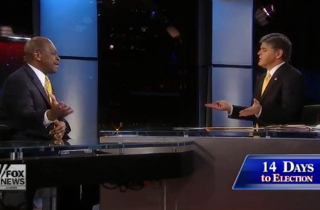 During last night's edition of Hannity on Fox News, host Sean Hannity and former GOP primary candidate Herman Cain attacked rival network MSNBC for "playing the race card" in its post-debate commentary.
Hannity played the clip in which MSNBC host Chris Matthews accused Republicans of hating the president so much that they "want him out of the White House more than they want to destroy al Qaeda." The fiery liberal host chalked up a lot of this hatred to "racial hatred in many cases."
Cain and Hannity rebutted that the Republican opposition to Obama is based in "the failure of Obama" and the fact that "the drop in median family income for a black family was 11 percent in the last four years, which is twice the rate for an average white middle-income family," and that "the unemployment rate amongst black people is nearly twice what that so-called national unemployment rate of 7.8 percent."
The failed GOP primary presidential candidate then addressed Matthews directly: "With all due respect, you are a pathetic excuse to call yourself a journalist. You're supposed to present people with the facts. You're supposed to give them information. Not name call, ignore the facts, and then try to shift the subject off of a failed economic policy and failed foreign policy."
In electing Obama back in 2008, Hannity argued that Americans "ignored a lot of Obama's past," and now that he "didn't fulfill his promises," Americans don't want to reelect him. "America is racist? Is that the conclusion there?" Hannity asked.
"That's the conclusion that they're bringing but it's also because they are desperate. They don't have anything positive economically to run on. The foreign policy, it also failed," Cain replied.
Watch below, via Fox News:
— —
>>
Follow Andrew Kirell (@AndrewKirell) on Twitter
Have a tip we should know? tips@mediaite.com