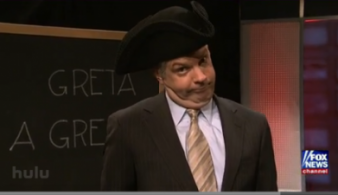 Last night's Saturday Night Live opened with a sketch spoofing Fox News, its coverage of the election — and, of course, Glenn Beck.
The sketch was loaded with send-ups — Greta Van Susteren by Kristen Wiig, Shep Smith by Bill Hader, Brit Hume by Will Forte, Karl Rove by Bobby Moynihan and Juan Williams by Kenan Thompson — and took aim at assertsions that the election was a referendum on Obama. (Hume: "He had ten months – ten months! – in office, and he could not find time to fix the greatest economic collapse in modern times, or win one of the two wars that he inherited." Rove: "Let's not forget that it was under HIS watch that we lost the King of Pop.") Oh yes, the Fox "panel" also featured Fred Armisen as lone Dem Joe Trippi (the joke being that Trippi was an overlooked, ignored afterthought).
The highlight of the sketch, though, was Jason Sudeikis as Glenn Beck who declared Tuesday's election "the return of Freedom," got choked up, and took to the chalkboard to rearrange the letters in Greta's name. ("A Great" for "A great, great nation" — the joke being that Glenn Beck can't spell.)
Great, zingy sketch — but my only quibble here is with the glaringly off-note of Shep Smith. Played by the usually spot-on Hader, this version of Shep is inaccurate in that it portrays him as pushing a nakedly partisan agenda, which Smith is well-known precisely for not doing. All told, though, that's balanced out by Juan Williams' mustache and Glenn Beck's hat. Watch below:
Of course I like this sketch spoofing Fox News' election coverage — it agrees with me. Nice Juan Williams from Kenan Thompson (mustache!), great Greta Van Susteren from Kristen Wiig, funny Karl Rove from Bobby Moynihan, and a shout-out to Joe Trippi, even if it's clear that the SNL makeup people had no clue what he looked like. Best line in the whole thing: "Let's not forget that it was under HIS watch that we lost the King of Pop." A nit: Bill Hader as Shep Smith was way too smugly partisan, with shades of Keith Morrison. But on the flip side, I think Jason Sudeikis may need to get an Emmy for his impression of Glenn Beck. Outstanding.


RELATED: Taylor Swift on SNL: Twilight, Glenn Beck, and No Kanye.
Have a tip we should know? tips@mediaite.com