Why Megyn Kelly's Rebuke of Bill O'Reilly Was Her Best Moment on NBC Thus Far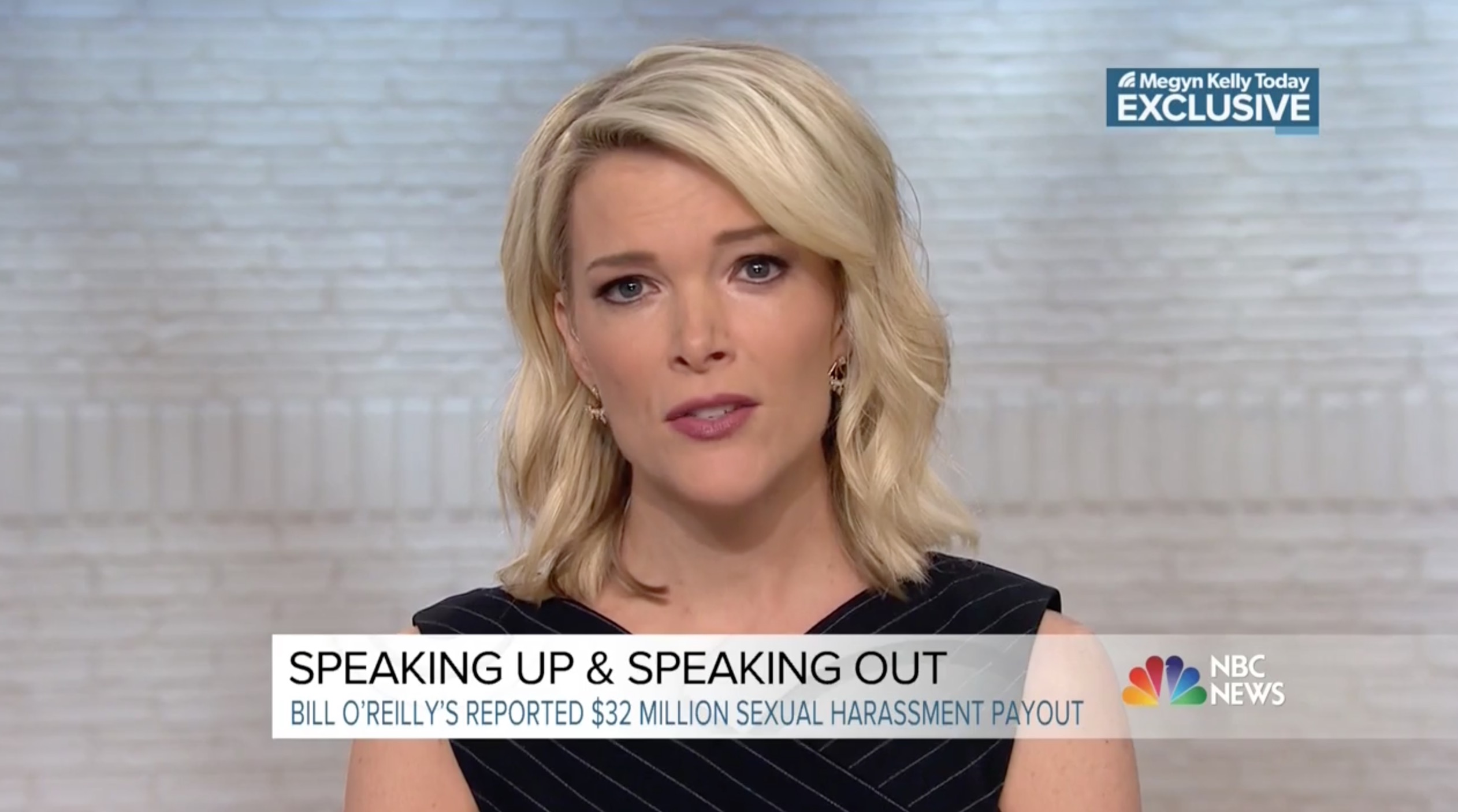 It's no secret that Megyn Kelly's rollout at NBC was rocky to say the least. She debuted over the summer with her weekend magazine show Sunday Night with Megyn Kelly and between her poor ratings and the outrage that was sparked when she interviewed rightwing conspiracy theorist Alex Jones, she was hoping that her worst days at the new network were behind her. Then in September, she made her daytime debut with her talkshow Megyn Kelly Today. Ratings are still a problem for her and she had numerous missteps from her overly-contrived welcome to the "NBC Family," her uncomfortable probing of Jane Fonda's plastic surgery, to her awkward spontaneous dancing that was widely mocked on social media.
But in recent weeks, Kelly has had a spring in her step, not necessarily because she was happy but because she was passionate about certain current events, particularly those that involve sexual harassment. She has dedicated extensive coverage on Harvey Weinstein scandal, sitting down with one of his accusers Lauren Sivan, ripping apart Donna Karan for suggesting that Weinstein's victims were "asking for it," and went after Twitter for briefly suspending actress Rose McGowan's account. Then yesterday, after it was reported that Bill O'Reilly made a $32 million settlement, she slammed her former colleague for maintaining his innocence.
Obviously, these scandals have struck a nerve with the Fox News veteran since she too was a victim of sexual harassment from her former boss Roger Ailes. And unlike her interview with the Kardashians or her Halloween arts and crafts, this was something she was personally invested in. We don't know what went on behind the scenes, but Kelly expressed her beef with O'Reilly for his repeated assertion that in the 40 years of being in broadcast journalism, no one complained about his behavior. She debunked the claim by sharing an email she sent to the co-presidents of Fox News last November regarding his demeaning of the subject of sexual harassment when he dismissed it during an appearance on CBS This Morning.
"This must stop. the abuse of women, the shaming of them, the threatening and the retaliation, the silencing of them after the attack," Kelly declared. "It has to stop."
She received high praise for her rebuke to O'Reilly and deservingly so, but you wonder why was it that people liked her so much for giving such a powerful monologue and not so much for chatting with the cast of Will & Grace.
Because what we saw was the Megyn Kelly we came to know and love over the years.
It took Megyn Kelly over a decade to climb her way to the top at Fox News, hosting the second most-watched cable news show behind O'Reilly. What exactly was her appeal? It wasn't just that she's smart, personable, and beautiful, it was her "tell it like it is" attitude, her tough questions for her guests, and above all, it was her ability to go after Democrats and Republicans alike. During the election, she was one of very few journalists who held both Donald Trump and Hillary Clinton's feet to the fire. Kelly scorched him for things like the infamous Access Hollywood tape and hammered her for her email scandal. When Trump voters allege that she was too soft on Clinton and Clinton voters allege she was too soft on Trump, that's how you know she was doing her job right. And unlike O'Reilly and many of her former colleagues at Fox News, she didn't roll over and play dead for Trump when he won the GOP nomination and later the presidency.
She made it clear on day one of her new show that she was "done with politics" (at least for now) and while she hasn't been this fired up about a political news story as she has been about these sexual harassment scandals, chances are that day will come. After all, she built a career as a critical, even-handed news analyst that was respected by both liberals and conservatives.
Megyn Kelly spent much of the last month presenting a cheery, sugar-coated persona. For many, it seemed unnatural, as if she was chained from being her true self, but when she took on O'Reilly, we as viewers could tell she felt liberated. As Commentary associate editor (and Mediaite alum) Noah Rothman perfectly stated, she's simply a social/political commentator who "can't run from destiny."
The only way she will succeed at NBC is if she embraces the instincts that made her a household name to begin with. If she continues to try to be this Oprah Winfrey wannabe, she will likely crash and burn. Because in the end, the world doesn't need another Oprah Winfrey. The world needs a Megyn Kelly.
This is an opinion piece. The views expressed in this article are those of just the author.