Sarah Palin To Fox News: I Don't Want To Talk To Media Outlets Other Than Fox News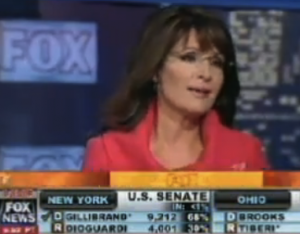 During Fox News' election coverage, on a night when attention should've been on actual candidates, Shepard Smith turned his attention to his colleague Sarah Palin. If she does one day decide to run for office, Smith asked her, would she talk to media outlets that aren't Fox News, the network at which she currently has exclusive "protection"? Palin's answer was not promising—for curious voters or for her potential candidacy.
She began by reminding Smith that she can't be "constrained": "I can still talk to whomever I want to." She continued:
That's the key right there, it is, at this point, whomever I want to talk to. I will not talk to reporters who have an obvious bias or vendetta or are going to turn my words into something that they're not meant to be.
That "key" is where her problem is, though—she thinks everybody has a bias or vendetta against her. "Gotcha" journalists like Katie Couric, for asking questions she can't answer; "bored reporters," for keeping up with the Twitter that bears her name, as though it exists for only her close friends and family; and the shapeless, sneaky "lamestream media" that she says "would pervert" what she has to say.
Of course, shunning the vast majority of national media isn't exactly the best strategy for someone mulling over a national campaign, and polls reflect that. As Andrew Sullivan noted, her decision to decline open press conferences as a vice-presidential candidate in 2008 has somehow become an expected norm. But clearly, her base can't expand if she won't. So the question is, will Fox News (and a TLC reality show) be powerful enough to propel her to the White House, or will she give in and talk to whomever she doesn't want talk to? We've got two years to find out. (H/T Andrew Sullivan.)
Until then, catch her in the only non-SPALASKA! place you can, Fox News:
Have a tip we should know? tips@mediaite.com