From 'Many' to 'Both Sides,' Trump Fails to Stand on the One Side the Country Cares About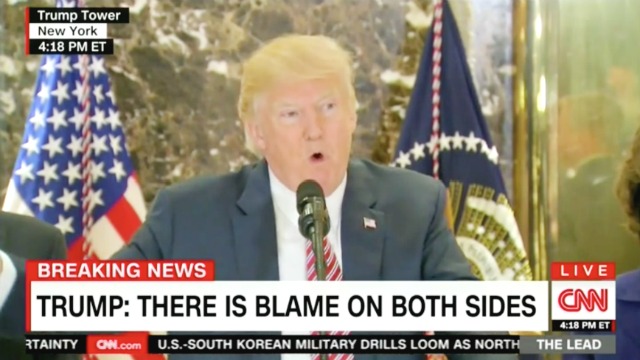 President Trump doubled down on his initial remarks he gave last Saturday in reaction to the violence that took place in Charlottesville, VA. Over the weekend, he condemned the "hatred, bigotry and violence on many sides" and yesterday at the press conference he gave at Trump Tower he said he believes "there's blame on both sides."
Giving that impromptu press conference, the statement he made on Monday where he actually called out the KKK, neo-Nazis, and white supremacists has essentially become meaningless. His staff practically twisted his arm to make those remarks. To him, it was a chore to shame the white nationalists and he basically admitted on Twitter that he only made the statement to please the media.
Made additional remarks on Charlottesville and realize once again that the #Fake News Media will never be satisfied…truly bad people!

— Donald J. Trump (@realDonaldTrump) August 14, 2017
What's so strange is that while Trump was wrong for waiting 48 hours to specifically call out the Nazis and Klansmen that attended that rally, he's still right on a lot of the things he has said. There is hatred, bigotry and violence on many sides. There is blame on both sides. And there are always going to be people who will never be satisfied with him no matter what he says. But despite being right, there's a time and a place to score political points and doing so while chaos plagued Charlottesville was not one of them.
As Ben Shapiro eloquently put it, America is suffering from twin cancers: the Alt-Right and the Antifa (or as Trump referred to in his press conference as the "Alt-Left"). The Alt-Right was on full display in Charlottesville, where they paraded their white heritage to the point where they embrace racism and hatred. The Antifa was on full display causing riots after Trump's inauguration and is often found on college campuses, where they say they are anti-fascist but shut down free speech and threaten violence to those they don't agree with. The Alt-Right claimed the life of a young woman in Charlottesville last weekend and the Antifa attempted to claim the lives of GOP lawmakers in Alexandria back in June. They both call themselves patriotic and they pretend they are standing up for America's principles but in reality they're the poisonous fringe that is disrupting our way of life.
There's no question that the Alt-Right heavily favored Trump during the election. They're truly the only people in Trump's "basket of deplorables." However, as small as this group is, they have a loud voice which was amplified by Steve Bannon allowing Breitbart to become "platform for the Alt-Right."
As the short-lived White House Communications Director Anthony Scaramucci told Stephen Colbert on Monday, I personally don't believe Bannon is a white supremacist, but as The Mooch noted, Bannon could have built a "tolerance" for them. I sincerely hope that isn't the case and if it is, Bannon should be shown the door.
The only question I have is this… why does Trump keeps sticking his neck out for these white nationalists? I refuse to accept the left's assertion that Trump is some sort of racist Nazi, which leaves me with two options. Either Trump really feels that the media is purposefully trying to lump his supporters with white supremacists or Trump didn't want to alienate his Alt-Right "base."
If it's the former, then I can at least understand where Trump is coming from, no matter how misguided. Over the weekend, I wrote a column comparing Trump's unwillingness to call out the enemy by its name to President Obama's with Islamic extremism. Like Obama, Trump didn't want a certain group of people (aka his voters) marginalized in any way. However, if it's the latter, then Trump is truly making a fool's errand, trying to preserve the hate vote instead of fighting for his non-racist supporters who are losing hope in this presidency as recent polls have shown.
But in the midst of Trump talking up "both sides," his ego has turned a valid point into an irrational argument. The man literally credited the white nationalists for having a permit! And speaking of valid points, his critics have pointed out that he gets more fired up going after people at CNN or the Merck CEO for resigning from Trump's manufacturing council than he does going after neo-Nazis or the KKK. Even several members of his administration and virtually everyone in his own party have firmly denounced them.
When Trump invoked the "both sides" argument, he obviously meant between the left and the right, but his unwillingness to passionately call out the groups that wear hatred as a badge of honor have shifted what the "sides" are. You're now either on the side that proudly condemns racism or the side that sheepishly condones it.
It's time for our president to finally choose a side.
This is an opinion piece. The views expressed in this article are those of just the author.