21 NRA 'A'-Rated Senators Part Of 68-31 Vote To Defeat Filibuster Of Background Check Bill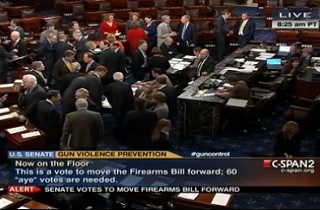 The Republican plan to block debate on Senate Bill 649, which requires background checks on almost all gun purchases and transfers, failed spectacularly Thursday morning when sixteen Republican Senators joined almost all of the Democrats to vote in favor opening debate on the bill. Among those voting to defeat the filibuster were 9 Democrats with "A" ratings from the National Rifle Association, and 12 A-rated Republicans (out of 16 Republican "ayes"). Two Democrats, Sen. Mark Pryor (D-AR) and Sen. Mark Begich (D-AK), joined the majority of Republican Senators who tried to prevent debate, much less a vote, on the bill.
The plan to filibuster the gun reform measure was met with vocal resistance from some Republicans who, even if they disagree with the policy, felt it deserved debate and a straight up-or-down vote. Going into the vote, Senate Majority Leader Harry Reid said he felt confident he had the 60 votes required to overcome a filibuster, but he wasn't certain. As it turned out, it wasn't even close. The effect of the Newtown parents' lobbying efforts this week cannot be underestimated, and today's vote could be a good omen for gun reform.
The Republicans who voted to debate the bill were Senators Lamar Alexander (R-TN, NRA rating=A), Kelly Ayotte (R-NH, NRA rating=A), Richard Burr (R-NC, NRA rating=A), Saxby Chambliss (R-GA, NRA rating=A), Tom Coburn (R-OK, NRA rating=A), Susan Collins (R-ME, NRA rating=C+), Bob Corker (R-TN, NRA rating=A), Jeff Flake (R-AZ, NRA rating=A), Lindsey Graham (R-SC, NRA rating=A), Dean Heller (R-NV, NRA rating=A), John Hoeven (R-ND, NRA rating=A), Johnny Isakson (R-GA, NRA rating=A), Mark Kirk (R-IL, NRA rating=F), John McCain (R-AZ, NRA rating=B+), Pat Toomey (R-PA, NRA rating=A) and Roger Wicker (R-MS, NRA rating=A+).
The real test of the country's mood on gun reform will come when the lawmakers who cast votes today are rewarded, or punished, by voters. This was not a vote on the merits of the bill, but simply on whether it would be discussed, or voted on. Even pro-gun Americans have a sense of fair play that should lead to a backlash against those 31 Senators who tried to block SB 649.
Here's video of the vote, from C-Span 2:
The following chart shows how each Senator voted Thursday morning, as well as their NRA and Gun Owners of America ratings. You can also download this spreadsheet to see how each Senator's state ranks in gun homicides, toughness of gun laws, mental health spending, and other metrics.
Have a tip we should know? tips@mediaite.com