A Real Life Stephen Colbert? Conservative Group's Leader Writes Post On Why We Need To Kill All Bears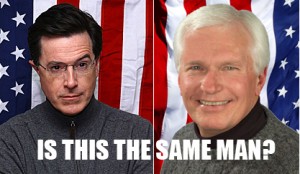 Oh no. The one thing that can hurt a satirist as good as Stephen Colbert has finally happened. That's right, someone in the real world has appeared to make his satirical character look normal. That someone is Bryan Fischer, the Director of Issues Analysis for the conservative Christian group American Family Association. Fischer has written a series of blog posts about how the grizzly bear is "a predator, a fierce, savage unstoppable killing machine" that should be shot "on sight." Clearly, the Colbert Report writers are going to need to step it up.
If you don't remember Fischer, he's the guy who argued that firefighters did "the Christian thing" when they let a family's house burn down after they didn't pay their $75 firefighting fee. He also made some waves with his slightly controversial position that there should be absolutely no Mosques allowed in America. But it's bears that really get him going.
Talking Points Memo summed up his latest post thusly:
"Fischer posted the piece on his 'Rightly Concerned' blog, which is 'a project of the American Family Association.'

He references a November 6 article in the Los Angeles Times about the high death toll of bears in the Yellowstone region this year, which the article says is the worst on record. Fischer's point is that the piece 'exudes far more compassion for live bears than dead people,' since the two people who died from grizzly attacks only warrant a fifth-paragraph mention.

'One human being is worth more than an infinite number of grizzly bears,' Fischer writes. 'Another way to put it is that there is no number of live grizzlies worth one dead human being. If it's a choice between grizzlies and humans, the grizzlies have to go. And it's time.'

He continues: 'Of course there is a simple answer: shoot these man-eaters on sight.'"
As passionate as that is, Fischer has done better. A quick search online shows that his hatred of bears is nothing new. This post is from June:
"The grizzly is a predator, a fierce, savage unstoppable killing machine. Lewis and Clark did not believe the stories they'd been told by Indian peoples about grizzlies until they started running into them. It was not long before their 'curiosity' was 'quite satisfied' about the grizzly.

Because these researchers were intent on studying the grizzly rather than killing him to protect innocent human life, a husband, father and grandfather is dead today. This was an utterly unnecessary death which could have happened only because our culture has jettisoned a biblical view of the relative value of human life compared to animal life.

Because this animal was given a nap instead of a bullet, a human being is dead, and a savage animal is alive, on the prowl, and ready to kill again."
Obviously this is a terrible thing for Colbert, his staff, and also…uh…bears. Mostly it's a bad thing for bears.
Have a tip we should know? tips@mediaite.com