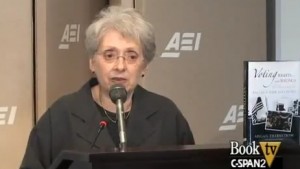 If you have been following the New Black Panther story on Fox News, you probably know it as the "DOJ Whistleblower Case," a frame that suggests that J. Christian Adams (the Bush DOJ lawyer who now claims that President Obama's Justice Department has instituted a policy against protecting white Americans' civil rights) is an ordinary public servant, pushed to extraordinary lengths by his noble conscience. While he doesn't quite fit that bill, US Commission on Civil Rights Vice Chair Abigail Thernstrom comes a lot closer. An American Enterprise Institute scholar (and a Republican), Thernstrom has gone from warning that Adams' case is "fantasy," to sounding the alarm that her own commission is engaging in a fraud. (h/t Doug Mataconis)
As Glynnis MacNicol notes, Thernstrom made a disturbing revelation in an interview with Politico: (emphasis mine)
"This doesn't have to do with the Black Panthers; this has to do with their fantasies about how they could use this issue to topple the [Obama] administration," said Thernstrom, who said members of the commission voiced their political aims "in the initial discussions" of the Panther case last year.

"My fellow conservatives on the commission had this wild notion they could bring Eric Holder down and really damage the president," Thernstrom said in an interview with POLITICO.
At the very least, this is a severe dereliction of the Commission's mission, which says nothing about manufacturing political attacks on sitting presidents. If true, the President should immediately identify the commissioners involved, and dismiss them (the President has the power to dismiss commissioners "for neglect of duty or malfeasance in office.")
Although technically "bipartisan," the Commission was stacked with conservatives by President George W. Bush by gaming the system. Only 4 of the 8 commissioners are allowed to be from the same political party, but two of the Republicans on the Commission switched to "Independent," allowing Bush to appoint two more.
Adams, meanwhile, is the product of a famously politicized Bush administration Justice Department that hired only "ideological comrades" to positions as career lawyers. Even Fox News reported that a source close to the case said that Adams was a "conservative who has made willful misstatements" in a Fox News interview. He also volunteered with "the National Republican Lawyers Association, an offshoot of the Republican National Committee that trains lawyers to fight on the front lines of often racially tinged battles over voting rights."
I asked J. Christian Adams if he had ever discussed the political implications of this case with any of the conservatives on the commission, and whether Thernstrom's allegation gave him any pause: (via email)
Of course not. I'm a fact witness, not a strategist. Abby is a friend of mine. She shoots from the hip sometimes without thinking. She has that reputation. But it seem outlandish that that sort of thing would have been said back when the Commission opened their inquiry last fall. Its nuts and doesn't make any sense in the context of fall 2009 and I presume you can see that.

… I've not seen anything that would tend to lend credibility to the assertion. In fact, I've encountered the opposite in my conversations with staff of the USCCR. All professional, all matter of fact. Abby has a well known reputation of stubbornly not backing off of her original positions no matter how tenuous emerging facts render her position. At times it is endearing to me, but to many others less so. But my knowledge and expertise in this debate is a small insular one that doesn't extend to the inner tug of war at the Civil Rights Commission. I've not detected anything in my dealings with staff at the USCCR that supports her contention. Didn't she say this allegation was made in the fall of last year? That would seem preposterous at the time given how few people even knew about the matter. But I just am not in a position to render an opinion about what this or that commissioner is up to.
I'm not sure what Adams means when he says it's "preposterous" that conservative commissioners would have talked about political aims in their "initial discussions" of the case, if that was their whole reason for pursuing it.
Whether you find Adams' complaint against the Department of Justice credible, or not, the fact that he's willing to dismiss Thernstrom's allegation out of hand is strange. She's not just expressing some stubborn policy position, she is making a specific accusation.
The White House needs to investigate Abigail Thernstrom's allegations, and nip this whole thing in the bud if they can, before it gets out of control.
Have a tip we should know? tips@mediaite.com