Benghazi Controversy Means Hillary Clinton May Need A Democratic Primary In 2016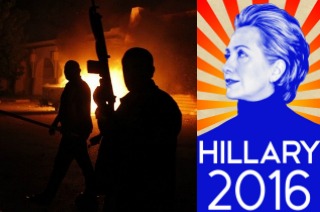 While 2016 talk is somewhat premature, the invisible primary has been ongoing for months and ignoring the political ramifications of today's events on the next presidential cycle is as much folly as ascribing too much influence to 2013's passing machinations. After Wednesday's congressional hearings, it is not a leap to say that the investigation into the White House's handling of the Benghazi attack and its aftermath is not a passing craze or a politically-motivated witch-hunt. The charges levied by the so-called Benghazi whistleblowers are serious and lead directly to the nation's highest elected and appointed officials – including former Secretary of State Hillary Clinton.

If the Benghazi scandal's implications continue to mount, and the coverage of that scandal is characterized by enduring questions about Clinton's culpability in that controversy, she may not only want but invite what appears to be an unlikely prospect at this stage of the 2016 election cycle: a competitive Democratic primary. If Clinton coasts into the general election as her party's presidential nominee with questions about her role in the Benghazi scandal lingering, the scandal could find new life and achieve unforeseen resonance with the electorate. When the individual asking pointed questions of Clinton's complicity in that attack is not an ally of the White House but an aggressive Republican nominee, the charges will take a more exacting toll on her appeal as a candidate.
Right off the bat, let's establish this: Clinton herself, on several occasions during Wednesday's House Oversight Committee hearing, was implicated to some degree in the decision to erroneously link the Benghazi attacks to a YouTube video.
Gregory Hicks, the former deputy chief of mission in Libya, testified on Wednesday that Amb. Chris Stevens, who was killed in the attack on the Benghazi consulate, was present at that mission at Clinton's request. This fact was somehow missed by the Accountability Review Board report. Hicks said that Clinton wanted to make the temporary post in Benghazi permanent and intended to announce that outpost's permanence on an official trip to Tripoli in the coming weeks.
Hicks further testified that only a high ranking State Department official could approve the drawdown of security personnel at a high-risk, temporary diplomatic outpost. Multiple requests for additional security personnel at the Benghazi consulate were denied in the weeks leading up to the attacks, according to regional security officer Eric Nordstrom.
Clinton herself was briefed on the unfolding events in Benghazi at 2 a.m. that night. She was explicitly informed that what was underway was a coordinated assault. At no point did any official in Benghazi report that a demonstration similar to those underway in neighboring countries in protest of a YouTube video was taking place in that city. Hicks said he was "shocked" and "embarrassed" that administration members, including Clinton, U.N. Ambassador Susan Rice, and President Barack Obama, spent the following weeks linking the attack to a YouTube video.
An email from a senior State official, read into the record at Wednesday's hearings, asserted that Clinton's department was informed by the Libyan government that the Benghazi attack was perpetrated by an Al Qaeda affiliate. An interim House report affirmed that this fact was "scrubbed." It is unclear who is responsible for this, but given how regularly senior White House officials pushed the narrative that the Benghazi attack was the result of a spontaneous demonstration, a senior administration official cannot be ruled out as the source of that scrubbing.
The damaging allegations go on and on. Given, however, the lack of interest the political media has shown in investigating the scandal, festering and unresolved questions about Clinton's complicity in a cover-up of the pre-planned nature of that attack are likely to have persistent staying power.
This is probably a more politically damaging condition for Clinton than if she had simply been directly implicated in a cover-up of the nature of the Benghazi attack. Those questions about her complicity having been definitively answered, the interim between today and the start of the 2016 campaign would be characterized by mea culpas and an ensuing rehabilitation.
Should Clinton run for and win her party's nomination for president in 2016 without her role in the Benghazi scandal having been thoroughly litigated in the primaries – where the stakes are far lower and the voters more forgiving – it will reemerge as a general election issue. The Republican nominee would be negligent to not bring up that scandal, her role in it, and whether or not that episode reflects poorly on her judgment as a surveyor of the nation's security threats.
At this rate, Clinton is unlikely to see a serious primary challenge. A Quinnipiac University poll released last week shows Clinton receiving 65 percent of her party's support, compared to just 13 percent for sitting Vice President Joe Biden. There are none in her party that poses a real threat to her primacy, even in their own political strongholds. A Public Policy Polling survey of Massachusetts Democrats released on Thursday shows that, even when paired against native Bay State pols like Gov. Deval Patrick and Sen. Elizabeth Warren (D-MA), Clinton still receives a majority of Democratic voters' support.
Clinton has little to fear from her fellow Democrats who may want to throw their hat into the 2016 ring, but she has a lot to gain from their participation in the process. The vetting of potentially damaging issues that will come from a protracted campaign and the ensuing debates would do much to strengthen Clinton's formidability in the general election. A short campaign that does not extend beyond the early primary states would leave Clinton vulnerable to withering attacks on her competence from the GOP's eventual nominee.
Benghazi gives Clinton reason to invite her fellow Democrats to challenge her in 2016. The real question then becomes, will her fellow Democrats – who are unlikely to prevail – sacrifice their time, political clout, privacy, and fundraising prowess just to aid Clinton in her quest to succeed Obama in the Oval Office?
> >Follow Noah Rothman (@NoahCRothman) on Twitter
Have a tip we should know? tips@mediaite.com