Concha: Bill Clinton Pardoned, Tops 'Most Forgivable Liar' Poll
Concha: Bill Clinton Pardoned, Tops 'Most Forgivable Liar' Poll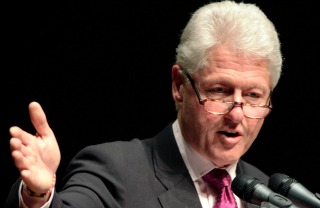 We've been hearing a lot about the Second Amendment lately as it related to the gun issue.
But one amendment rarely mentioned is of the twenty-second variety. That's the part of the Constitution that applies to presidential term limits (two). For instance, President Obama obviously can't run for a third term, nor can Bill Clinton, despite not having been in office since 2001.
When setting aside ideology and the usual partisan BS, the former president is an interesting subject to study when it comes to his standing with many in the media and a strong majority of the American public alike. Mr. Obama may have run on hope and change, but the man from Hope (Arkansas) –despite being on the sidelines for 13 years — is easily the most popular politician in the country. And if, in some parallel universe, Mr. Clinton somehow got the chance to run against Mrs. Clinton, it would probably be no contest… with the former president winning quite comfortably (there's no data to support this, of course, just a theory that one is a much better campaigner and is infinitely more likable than the other). For an example what happens when Hillary is matched up against an affable, skilled public speaker and campaigner, see: Primary, Democratic, 2008.
Which is why it's no surprise that Bill Clinton recently scored another landslide, albeit in the following (dubious) poll conducted by CBS News and Vanity Fair: "Who is America's Most Forgivable Liar?" In said poll, Mr. Clinton took home 43 percent of the vote (ironic, since he beat George H.W. Bush and Ross Perot with the same percentage of the vote in 1992). Lance Armstrong finished a distant second with 22 percent. Bringing up the rear are the late Richard Nixon (12 percent) and Prisoner 61727-054, otherwise known as Bernie Madoff (3 percent).
The 67-year-old Clinton leading the pack here is not surprising. His approval rating stands around 70 percent. In the Washington Post, the "Why He Matters" section of his biography states he "presided over the longest peacetime economic expansion in American history." Mr. Clinton — despite the Lewinsky affair, despite all the lying about it during and afterward — is more viewed as the guy who ran the country during the good old days: Solid economy, budget surpluses instead of massive deficits, no major international conflicts costing American lives overseas (Black Hawk Down in Somalia being an exception). Much more the centrist than the current occupant in the White House, he worked with Republicans to enact welfare reform — who owned the House under now — CNN Crossfire co-host Newt Gingrich.
All of that said, if Mr. Clinton had presided over a horrible economy or had the kind of foreign policy mess a Jimmy Carter or Bush 43 had, the public might not be so forgiving. But there's one bigger aspect to all of this: Survey after survey shows a majority of married Americans cheat.
According to Infidelty.com (which compiles major surveys on the topic and comes up with a composite number…just think of it as the RealClearPolitics for cheating stats), 57 percent of married men have admitted to committing infidelity. On the women's side, the number stands at 54 percent. Whether infidelity is defined in the Clintonian sense (no intercourse but exploring other options on the pleasure front) is unclear. Regardless, many Americans forgive Mr. Clinton because they feel his actions on a personal level didn't affect his ability to do his job effectively.
If the economy had been in the toilet, that perspective likely would be different for some. The public also—particularly those who have cheated—see him as a sympathetic figure, one they can relate to personally. Note: This isn't a justification of this behavior, nor does it excuse it…just sharing a perspective.
So when Rand Paul—a likely GOP presidential candidate—says the following about Bill Clinton and the Democrats as it pertains to the so-called "War on Women," you begin to wonder if this kind of strategy will ultimately backfire:
"One of the things that was rotten about the old patriarchal system we did have, was that bosses took advantage of young women in the workplace. "And I think Democrats tried to make Bill Clinton out [as], 'Oh, just a guy who has a lot of affairs.' But several of these were in the workplace… Republicans are as pro-women's rights as any other group out there. If [Democrats] are going to say [otherwise], they need to explain why they defended a guy who really had his own personal war on women going on."
Completely fair game and well-stated by Paul. But it seems Americans are applying both parts, particularly the latter part, of the old saying around forgiving and forgetting. That said, Republicans would be well-served to steer clear of broaching that kind of discussion when the general election rolls around. Again, Paul's point is completely valid; but if he plans on using this approach in 2016, he'll be cast by many in the media (and the public) as Ken Starr 2.0.
As for Hillary, here's how she would probably respond if asked about her husband's past infidelity during a debate or an interview on the campaign trail: "It happened over 15 years ago. We've worked hard on our marriage and couldn't be happier now. What does this have to do with putting Americans back to work, fixing immigration or protecting a woman's right to choose? What difference does it make?"
Game. Set. Match.
The Twenty-Second Amendment says an absolved Bill Clinton can't run for president again.
If his approval rating and even polls like this are any indication, both the GOP and his better half should be thankful.
— —
>> Follow Joe Concha on Twitter @ConchaMedia
Have a tip we should know? tips@mediaite.com