Daily Caller 'Exploits A Tragedy' By Calling Out The Left For Exploiting A Tragedy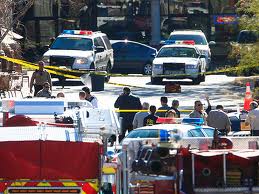 Tucker Carlson's The Daily Caller is featuring a piece called "Exploiting a Tragedy," but the Twitter headline "Exploiting a tragedy: Lefties love a crisis" more closely illustrates the unintentionally ironic, self-contradictory nature of the op-ed, co-authored by Carlson and Neil Patel. Aside from eating its own tail, though, the piece makes several other glaring missteps, including a poorly thought-out comment about gun control, and a yellow assertion about Gabrielle Giffords' father.
To be clear, simply pointing out that many people leapt to score political points as the tragedy in Tucson unfolded isn't, itself, exploiting a tragedy. Explicitly saying that one side (the left) "loves a crisis" (the Tucson mass shooting) is the very definition of exploitation. The body of the op-ed reinforces that misguided notion, in part by smearing Gabrielle Giffords' own father:
Gifford's own father suggested "the whole Tea Party" might be suspects in the shootings.
Spencer Giffords did not suggest that the whole Tea Party might be suspects in the shootings. He didn't suggest any suspects. Here's what he did tell The New York Post: (emphasis mine)
The congresswoman's father Spencer Gifford, 75, was rushing to the hospital when asked if his 40-year-old daughter had any enemies.

"Yeah," he told The Post. "The whole Tea Party."

He added that politicians constantly faced danger.

"They always get threat[ened]," Gifford said, sobbing. "We don't really have any information. The police department was supposed to call us but they didn't."
So, rather than "suggest" anything, Giffords answered a question put to him as he rushed to the hospital, and his answer was, in fact, accurate. Gabrielle Giffords, herself, had expressed concerns over threats and vandalism tied to opposition to health care reform. As for "suspects," he effectively said there weren't any, a bit of context that The Daily Caller left out.
It may seem like a small amount of license to take, but not when you consider the source, or the op-ed's audience. Although Carlson and Patel follow up by saying "It's easy to understand a father's overwrought reaction," that bit of license casts Spencer Giffords as a reactionary villain to the Tea Party.
Carlson and Patel start to make a somewhat reasonable point about the propriety of tying gun control legislation to this tragedy so quickly after the shootings, but go off the rails quickly: (emphasis mine)
First and most predictably, Rep. Carolyn McCarthy says she will introduce gun control legislation this week. McCarthy won't specify what her bill will entail, but it's likely to contain restrictions on ammunition purchases and high-capacity magazines. As if either one would have prevented Loughner's rampage.
The fact is that it was only when Jared Lee Loughner stopped to reload that the crowd was able to subdue him, so a restriction on high-capacity magazines actually would have save lives in this case. As it happens, I believe that policy should be made on the merits, not fixed around anomalous events like this, but if you're going to make such an argument, make sure it makes sense.
Finally, they completely ignore their own side's long history of exploiting tragedy, sometimes even during the event in question, and in doing so, they undercut their own critique, turning their headline into a confession.
Have a tip we should know? tips@mediaite.com