Fox News Devotes a Whole Evening's Worth of Programming to Whining About CNN…Again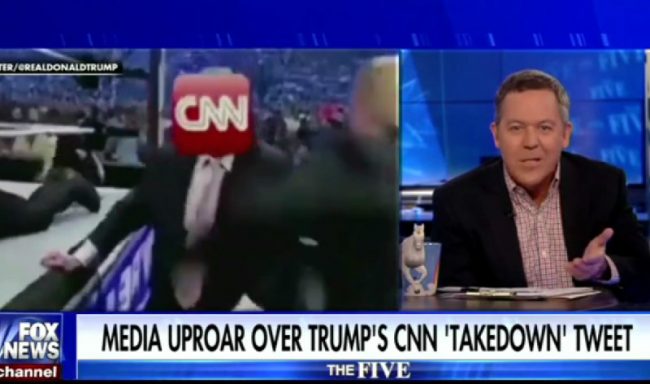 With the 4th of July falling on a Tuesday this year, many networks treated Monday as part of an extended holiday weekend. Based on their programming choices last night, CNN was one of those packing it in early for the Independence Day festivities as they ran repeats of their two-year-old special The Seventies last night rather than their normal programming.
However, the folks at Fox News didn't take the night off. Instead, they ran new episodes of all three of their primetime broadcasts, with only Hannity tossing in a guest host. With it being the night before a national holiday, what did the hosts decide to talk about most of the night? Well, they spent a large portion of their time discussing how much CNN sucks.
In what has become almost a nightly occurrence over this past week-plus, ever since CNN retracted a story about the Russia probe that subsequently led to the resignations of three journalists, Fox's primetime lineup has been largely devoted to ridiculing the rival network for its obsessive coverage of the Russia investigations and complaining about how negatively it reports on President Donald Trump.
And in doing so, Tucker Carlson, Sean Hannity and the conservative hosts of The Five have shown themselves to be the ones truly obsessed. Obsessed with taking down and delegitimizing CNN, much like our commander-in-chief, who just can't stop himself from tweeting and commenting on #FraudNewsCNN.
Last night, the CNN topic du jour was how the network reacted to the president's Sunday morning tweet that featured a video of him 'beating up' CNN. Carlson took issue with CNN senior media correspondent Brian Stelter wondering aloud if Trump's tweet violated Twitter's policy standards because it seemed to be an incitement to violence.
"Brian Stelter argued that the video is so offensive, that we ought to suspend the free expression and censor the president's speech, at least on social media," the Fox News host said. "It's kind of an odd argument for a journalist to make, but there you have it."
Tucker also mocked the network as a whole, calling them an "entertainment venture that promotes over-the-top fictional narratives and rigs its fights" while comparing them to WWE.
Meanwhile, on The Five, co-host Greg Gutfeld took some personal pot shots at Stelter, calling him a "hairless hall monitor" while telling him to "lighten up." As for Trump's latest tweet targeting CNN, he called it "silly, harmless nonsense" and saying that since the video was from a pro-wrestling event, it wasn't a "real fight" and was as "phony as the Russian collusion story."
Colleague Jesse Watters didn't want Gutfeld to have all the fun when it came to tossing out bon mots. The one-time Bill O'Reilly correspondent claimed that "Trump has made CNN look faker than professional wrestling" while adding that the president "thinks stuffing CNN in a locker is useful to his longterm agenda."
Ending the evening, guest host Kimberly Guilfoyle filled in for Sean Hannity. And while we didn't get a lengthy monologue full of personal attacks and Trumpish insults aimed at the network and its employees, Kim made sure to spend quite a bit of time going on about CNN. She personally complained that there seems to be a "media coup" against the president while numerous guests lobbed bombs against CNN, including Mike Huckabee, Dinesh D'Souza and Gina Loudon.
The thing is, the commentators during Fox News' evening programming have consistently pushed the notion that the rest of the media isn't paying attention to the REAL news. They are too obsessed with Russia and bringing down Trump. There is too much focus on themselves and not about the issues that matter to 'Real America.'
Yet they are totally consumed by liberal media outrage, specifically CNN. Every night brings more and more complaints about "fake news" and liberal bias. It would seem all three hours of Fox News' primetime programming is devoted to media criticism. One wonders how a network's personalities can sit there and complain about other outlets pushing narratives and ignoring the news when they are absolutely beholden to driving home a specific narrative over multiple hours.
Someone's obsessed alright. It just may not be the so-called liberal media.
[image via screengrab]
—
Follow Justin Baragona on Twitter: @justinbaragona
This is an opinion piece. The views expressed in this article are those of just the author.