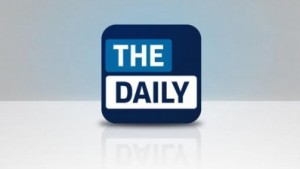 Today is the sort of day that news programmers dream of, though some may see this as more of a nightmare. There is no shortage of big stories today, clearly headlined by incredibly compelling live footage of the violent clash currently unfolding on the streets of Cairo (complete with pro-Mubarak forces galloping in on horseback.) There is also the horrible snow/ice storm that has paralyzed nearly half of a weather battered nation, as well as the launch of a much ballyhooed iPad application called The Daily. Guess which story took priority at Fox News?
There is no question that the partnership between Apple and News Corp. is a big story worth covering, as it received a lot of deserved attention months ago when it was announced. And yes, Rupert Murdoch is arguably the single most powerful media mogul (best evidenced by his place on the Power Grid); his enthusiasm and embracing of a new media platform (and pouring of $30 Million into its development) is a compelling and relevant story.
But the story unfolding in Egypt right now could not be more compelling, since it appears that the American ally (with huge strategic influence on the U.S. economy) is on the brink of complete and total destabilization. Ironically, the Murdoch-led press conference was introduced by Fox News' Neil Cavuto, an individual who has repeatedly reported the relevance of the Egyptian uprising on the price of oil. The decision to go with The Daily press event over the revolution in Egypt seems odd at best.
Obviously, other news networks continue to air short, fluff pieces in between their Egypt coverage, and if Fox had relegated this to such a segment, clearly disclosing the relationship, then they'd be much less open to criticism. But this was neither short nor fluff.
In many ways this feels similar to Sunday night's programming decision at MSNBC to air reruns of their Lockup series, while Fox News and CNN covered Egypt live. As we reported earlier, MSNBC was rewarded by getting the highest ratings of the night!
Clearly this event was planned well in advance of the upheaval in Egypt, and when two giant corporations like Apple and News Corp. partner, it is big news (particularly with regard to the future of media and news.) But the Fox News' decision to forgo real news coverage in Egypt for the promotion of a new commercial information platform (from which they hope to profit) seems to be at best a perfectly ironic example of the state of media today.
Have a tip we should know? tips@mediaite.com