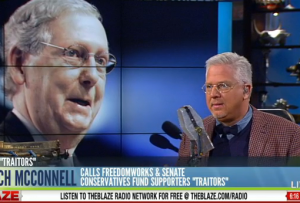 Glenn Beck has grown steadily more frustrated with establishment Republicans unwilling to stand for conservative values, and on Tuesday he revealed yet another reason to be outraged. Beck said he was informed by an anonymous source that during a closed-door meeting, Senate Minority Leader Mitch McConnell insinuated that anyone working with the Senate Conservatives Fund or FreedomWorks is basically a "traitor" to the GOP.
Beck made it clear that McConnell did not actually use the word "traitor," "but that's what everybody heard." McConnell also reportedly said that these two groups in particular are "trying to destroy the Republican party," and Beck brought up the words of another Republican senator who he has so far not been able to identify. This is a rough idea of what this second senator said, according to Beck.
"FreedomWorks and the Senate Conservatives Fund worked hard to unseat me, and I want you to be very clear on this. If any of you take a dollar from either FreedomWorks or the Senate Conservatives Fund, you're an enemy of mine."
Beck bashed McConnell as a "ruthless, authoritarian leader of the GOP" who publicly takes a stand against progressivism but privately couldn't care less about things like the IRS scandal. Beck declared, "If you actually care about the Constitution, there has to be a new party." By that, Beck didn't mean starting a third party, just "kicking the people out of the Republican party."
Beck also reiterated his call for people to stop giving money to the Republican party if they're going to keep betraying the conservative cause like this.
After Beck reported this story today, a McConnell spokesman sent a brief statement to TheBlaze, saying, "The anonymous claim is false. He neither said nor insinuated that."
Watch the video below, via BlazeTV:
[photo via screengrab]
— —
Follow Josh Feldman on Twitter: @feldmaniac
Have a tip we should know? tips@mediaite.com
Josh Feldman - Senior Editor