Washington Post's Jennifer Rubin: Gov't Shutdown Squashed Coverage of ObamaCare Glitches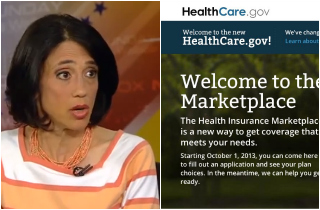 Washington Post's "Right Turn" blogger Jennifer Rubin excoriated Ted Cruz (R-TX) and the "Shutdown squad," not only for what she enumerated as a complete failure to realize any of their goals by forcing a government shutdown over ObamaCare funding, but also for drowning out the potential coverage of the Affordable Care Act's glitches as it debuted Tuesday morning.
"The conservative media assured its audience the shutdown would not overshadow the Obamacare rollout glitches," Rubin wrote. "So far, the coverage ratio is about 80-20 percent in favor of the shutdown."
In a strange bit of irony, the ObamaCare exchange websites opened for business this morning, even as the government closed thanks to an effort to prevent ObamaCare from being implemented. And while there are stories about the frustations of the just-launched websites, most of the attention has focused on the tense brinksmanship surrounding the government shutdown.
But Rubin wasn't done with Cruz & Co.
"Conservative media said the faux filibuster by Sen. Ted Cruz (R-Tex.) was a grand moment, eloquent and effective," she wrote. "In fact, it changed nothing, serving only as part of the historical record of right-wing folly. Third-party groups argued the 'squishy' Republicans would pay a price. To the contrary, they look like the grownups."
"Now the same voices who got the GOP into this corner lack any advice for how to get out of it," Rubin concluded. "That's a good thing; Republicans have heard quite enough from this crowd for a while."
Read the full post HERE, via WaPo.
[Images via Atlantic Wire, HuffPo]
——
>> Follow Evan McMurry (@evanmcmurry) on Twitter
Have a tip we should know? [email protected]