Harry Reid Goes Off on GOP Colleagues: Cruz a 'Laughing Stock,' Vitter 'Not Playing With a Full Deck'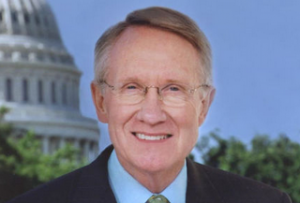 In a remarkably candid interview with The Huffington Post, Senate Majority Leader Harry Reid said what he really thinks of some of his Republican colleagues, including Ted Cruz. Reid said Republican leadership has been "hurt irreparably" by the shutdown crisis.
He said everyone who worked with John Boehner during the shutdown had one burning question: "John, what is the matter with you?" Reid explained they were all frustrated at how Boehner was publicly going after health insurance subsidies for congressional staffers, which was all the more annoying to Reid because, as some leaked documents show, Boehner had privately wanted to keep the subsidies for members of Congress and their staffs.
But Reid was far less restrained when it came to his Senate colleagues. Case in point, he said of Republican David Vitter, "He just is just not playing with a full deck. Something is wrong there." Vitter shot back in a statement to HuffPost saying, "Unfortunately, the deck I'm playing with in the Harry Reid Senate is quite full -– of jokers."
It was Ted Cruz, though, who got the brunt of Reid's criticism for being at the forefront of the Obamacare fight in Congress.
"You don't have to have Harry Reid criticizing him. Republicans criticized him. What do you think that vote was last night from Republicans? That was a message to Ted Cruz: 'What the hell are you doing?'… He is a laughing stock to everybody but him. What has he accomplished other than raising some money for president? And if this man can get the nomination to be the Republican nominee for president, I pity the Republican Party."
Reid said Cruz is a smart man, but he "has still not accepted" that he's in the Senate and can't constantly be talking down to people as if they're not on his level. He added, "He might be able to work a calculus problem better than I can. But he can't legislate better than I can."
You can read the HuffPost interview here.
— —
Follow Josh Feldman on Twitter: @feldmaniac
Have a tip we should know? tips@mediaite.com
Josh Feldman - Senior Editor