How Many Democratic Scandals Does It Take For The Media To Give Them Proper Coverage?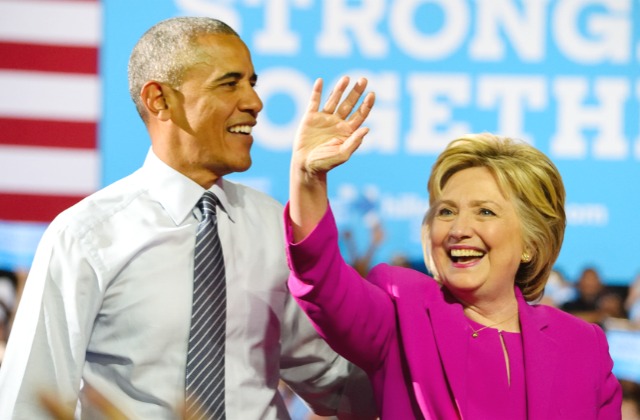 This week, CNN launched a new ad campaign called "Facts Firsts." In its ad, it featured an apple and a narrator explained how some may try calling it a banana, but it's still an apple. There was both praise and mockery of the new campaign. Nonetheless, CNN clearly sees itself as the one outlet in all of news media where facts come first.
So how much time did CNN spend on a subject like the Uranium One deal that's now being scrutinized? Within seven days since the story broke, it dedicated less than four minutes (according to conservative media watchdog MRC.) That amount of coverage was clearly dwarfed by the coverage they gave to President Trump's feud with Rep. Frederica Wilson and Gold Star widow Myeshia Johnson or his spat with outgoing senators Bob Corker and Jeff Flake.
CNN is in good company with underreporting, since CBS News only gave it 69 seconds and ABC and NBC gave zero coverage to Uranium One. And just this morning, ABC News failed to give a full report on how the DNC and the Clinton campaign funded research for the Trump dossier, making a roughly 30-second reference at the tail-end of another report. Which begs the question: how many Democratic scandals does it take for the media to give them proper coverage?
There are plenty of controversies that can be discussed, but there are six politically damaging stories in particular that Democrats would rather not talk about (and apparently, the media as well):
1. The DNC and Clinton Campaign-Funded Trump Dossier
On Tuesday, The Washington Post broke the story that the DNC and the Clinton campaign paid for the research that led to the infamous Trump dossier. While #NeverTrump Republicans were the first to pay the opposition research firm Fusion GPS for opposition research against the then-candidate, it was the Democrats who funded the Christopher Steele-authored report that relied on Russian intel. While the act of seeking opposition research during an election is fairly typical, there are many elements surrounding this transaction that have raised eyebrows. For starters, top executives at Fusion GPS have pleaded the fifth. Second, the FBI tried to pay for the dossier and even reimbursed some of the expenses to Steele, a former British spy located in Moscow. It is also uncertain if the dossier itself help launch the Russia probe and if FBI presented the dossier to a judge in order to get a warrant to surveil individuals surrounding the Trump campaign. But most notably, Democrats have claimed for months that they had nothing to do with the dossier. In fact, the Clinton campaign lawyer Marc Elias flat-out denied it even though it was discovered that he was the one giving the funds! What's hilarious about all of this is that the folks on the left who are dismissing this Russian-provided intel as "opposition research" that "happens all the time" are the same people that called Donald Trump Jr.'s meeting with the Russian lawyer "treasonous." Now an FEC complaint is accusing the DNC and the Clinton campaign of violating campaign finance laws. And a new report says that candidate herself wasn't even aware about the dossier until it was published earlier this year (a likely story…) To be fair, the media has given this nugget of news more attention since it broke that anything else that has made Democrats look bad this year, but the peculiar circumstances surrounding this dossier leading up to the WaPo report were certainly brushed under the rug.
2.  The Podesta Group Targeted in Mueller Probe
It's been known for months that former Trump campaign manager Paul Manafort was a central figure in the ongoing investigation into Russia's meddling in the 2016 election conducted by Special Counsel Robert Mueller. It was reported earlier this week, however, that his work as a Russian lobbyist with the Podesta Group, a left-leaning lobbying firm founded by brothers Tony Podesta and Clinton campaign chairman John Podesta, was also being investigated for their questionable collaboration with the Ukraine nonprofit European Centre for a Modern Ukraine. A source who was formerly a senior-level employee of the Podesta Group spoke with Tucker Carlson and shed some light on what took place between the firm and Manafort. The source alleges that the Podestas, who are close allies to Hillary Clinton, hired a former top State Department staffer named David Adams who essentially served as a "direct liaison." The source also claimed that ties between the Podesta Group and the State Department as well as the Clinton Foundation were "explicit" and Manafort wanted to strengthen ties on behalf of Russians to Secretary Clinton, assuming she was going to be the next president.
3.  The Corruption Behind The Uranium One Deal
Last week, it was reported that the FBI had gathered evidence of "bribery, kickbacks, extortion, and money laundering" from Russia leading up to the Obama-era uranium deal and that it had ties to The Clinton Foundation. Moreover, former President Bill Clinton sought approval from his wife's State Department to meet with a Russian nuclear official who sits on the board of the company that would eventually control 20% of America's uranium. This has since sparked numerous congressional investigations and now the DOJ has lifted a gag order on the FBI informant who leaked the story so now he can speak to Congress. The only reason why the media is finally covering it because Trump literally had to shame the press.
4.  Comey's Pre-Determined Outcome of the Clinton Email Investigation
Top Republicans on Capitol Hill revealed back in August that they saw documents that showed that then-FBI Director James Comey was drafting an exoneration statement for Hillary Clinton months before he officially closed the email investigation. That was confirmed earlier this month by the FBI. Comey testified to Congress that he did not make any decision on the outcome of the email investigation until then-Attorney General Loretta Lynch had that infamous tarmac meeting with former President Clinton. The draft he wrote months before the FBI interviewed several key witnesses including Secretary Clinton herself says otherwise.
5.   Sen. Bob Menendez's Corruption Trial
Despite all the legislative drama that has taken place during the Trump presidency, there has been very little mention about the ongoing corruption trial of Sen. Bob Menenedez (D-NJ). He is being accused of accepting thousands of dollars in bribes in the form of campaign contributions and lavish vacations. And since starting his trial in September, Menendez has missed several votes. It's remarkable that Bill Maher has spent more time talking about this corruption trial than most media outlets.
 6.   The House IT Staffer Scandal
Arguably the wildest political scandal of the year involves a ring of IT staffers who had worked for House Democrats but were let go after being accused of housing their data elsewhere and double-billing them for equipment. Their ringleader, Imran Awan, was arrested as he tried to flee the country to Pakistan and was indicted on four felony counts including bank fraud and giving false statements. The kicker was that despite the other staffers being fired for their suspicious activity, Awan was kept on the payroll by Congresswoman Debbie Wasserman Schultz months after and was finally fired this summer when he was arrested. He was also suspected of having a secret email address that had access to House servers months after he was banned and that he himself had a secret server that routed data from House Democrats. There are so many other head-scratching elements to this story that it's really stranger than fiction.
It's obvious that the media would rather focus on Trump's latest tantrums and the supposed collusion that took place between his campaign and Russia, but if it's truly "facts first," then they shouldn't ignore the ones that hurt their narrative.
This is an opinion piece. The views expressed in this article are those of just the author.