How Right-Wing Media Fantasized About Running Over Protestors like Heather Heyer For Years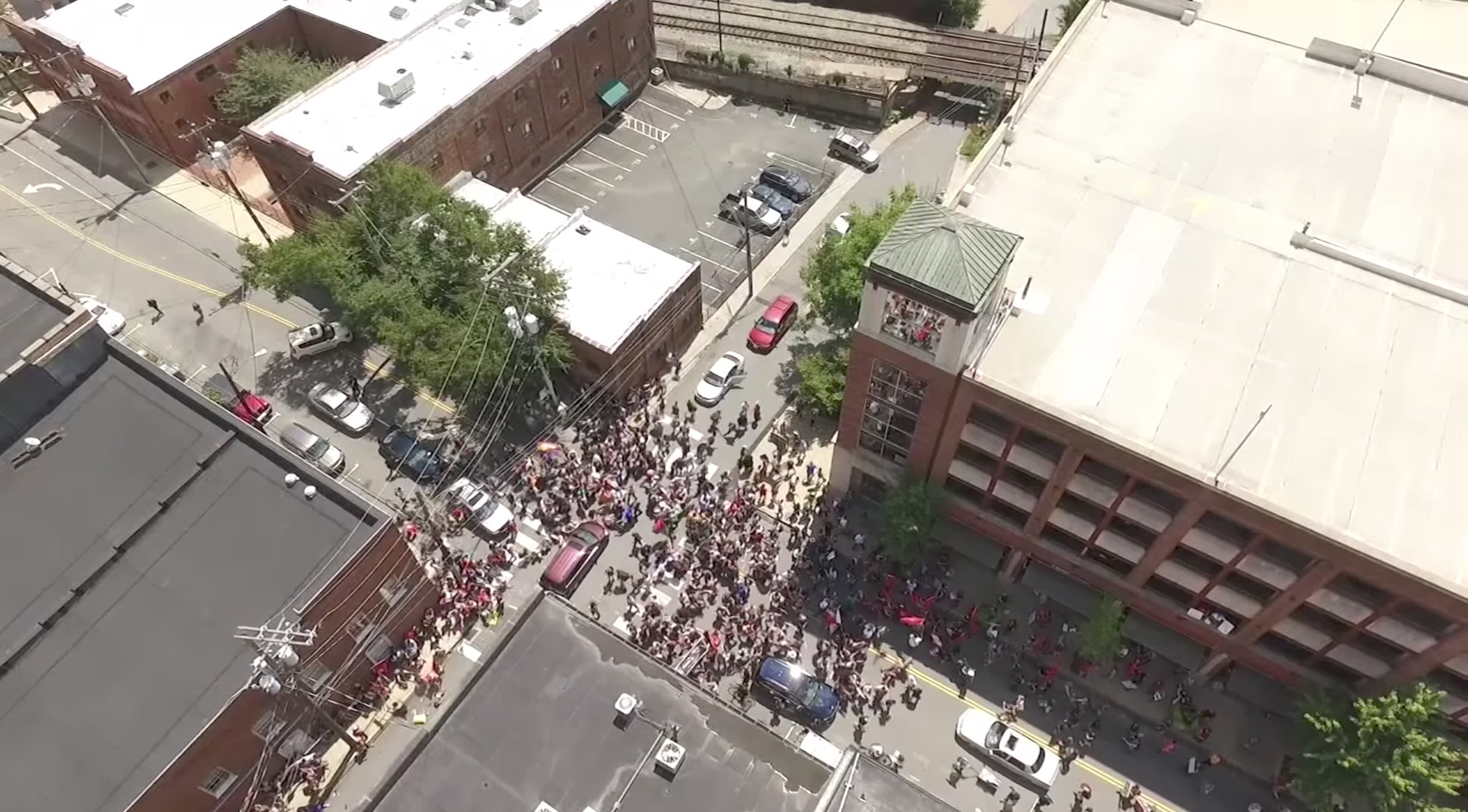 For anyone who has paid attention to the way conservative media portrays violence against protesters, Heather Heyer's tragic murder in Charlottesville, Virginia shouldn't have been a surprise — nor should it be considered a spontaneous or isolated incident.
Rather, this vehicular murder by a white supremacist was a right-wing media fantasy brought to life. For years — even going back almost a decade — conservative networks, blogs, and publications have justified or flat-out advocated for murdering protesters who are inconveniencing drivers by occupying space on a road. If a protester is blocking an intersection, their answer is simple: "Run them over."
A blatant example of this murder-fantasy is brought to you by two of President Donald Trump's favorite news sources: Fox News and the Daily Caller. In a now-deleted article, Daily Caller featured a disturbing video compilation of drivers ramming through "liberal protesters." The piece even directly advocated for future violence of this kind — "Study the technique; it may prove useful in the next four years."
This Daily Caller article was aggregated and posted on Fox Nation, a branch of Fox News. The network apologized for the post and removed it, but their endorsement of violence was archived.
The murder-porn compilation was not the only time a Daily Caller writer advocated for killing protesters with a vehicle. In response to demonstrators marching against the Dakota Access pipeline, Daily Caller editor Katie Frates tweeted, "I wonder how many #NativeNationsRise #NoDAPL protesters I could run over before I got arrested #getouttamyway."
Unsurprisingly, Heyer's murder happened at a white supremacist rally in-part organized by former Daily Caller contributor Jason Kessler.
In the same vein, the Conservative Tribune published an article titled, "WATCH: BLM Protestors Block Roads… Motorists Take Brutal Action." While this extreme right-wing outlet my seem fringe to those in mainstream circles, the site manages to pull nearly 60 million page views a month and has over 4 million likes on Facebook.
This violent right-wing fantasy goes back nearly a decade. In a 2008 post published on the conservative site Ace of Spades HQ, a conservative blogger ponders running over gay-pride demonstrators in an intersection, but frets that they will turn his road rage into "a manufactured hate crime." The blog post — which was recently unearthed on the podcast Chapo Trap House — is titled, "My Run In With Peaceful Protesters." It may be nine years old, but its violent sentiment managed to stick around.
For conservatives who wish to chalk this murderous attitude up to fringe characters, the blog's founder was named "Blogger of the Year" by Conservative Political Action Conference in 2008 — the same year the murder-porn blog post was published.
This violent fantasy isn't just contained to online outlets and blogs, as even USA Today columnist Glenn Reynolds recently endorsed ramming through protesters. After demonstrators gathered in Charlotte, North Carolina to protest a police shooting last year, the conservative columnist tweeted advice for drivers in the area— "Run them over," he said. Reynolds, who is known on the internet by his blogger pseudonym Instapundit, was suspended on Twitter for the remark.
The "run them over" mantra exploded in popularity among conservatives as the Black Lives Matter movement grew. Historian Liam Hogan created an entire web page dedicated to chronicling the violent expression. Additionally, talk radio host Dino Costa repeated this vicious idiom while on the airwaves. "As soon as one or two of these sumbitches are run over you'll see the entire, in unison, everybody be up off the street. When people are being killed by 18-wheel trucks coming by, pickups, cars. Run 'em over," exclaimed Costa.
From Black Lives Matter, to environmental activists, to anti-racist counter-protestors, right-wing media figures have continually endorsed killing protestors — the white supremacist who murdered Heyer and wounded 19 others was merely living-out the violence conservative media long advocated for.
Right-wing media pushed for this murder-fantasy by condoning it over and over again — and they finally got what they asked for in Charlottesville.
In light of Heyer's death, the threats and violent fantasies condoned by conservative media must stop being brushed off as sick jokes and hot air — their violent sentiment should be taken at face-value.
[imaga via screengrab]
This is an opinion piece. The views expressed in this article are those of just the author.