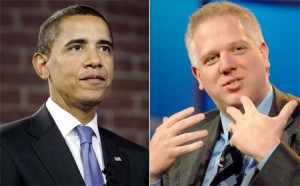 Today's announcement of President Barack Obama's Nobel Peace Prize created quite a stir in the world of opinion journalism. The left seemed eager to agree with the seeming absurdity of getting nominated for such an honor only 12 days in office, but the right have been downright giddy — some went so far as to claim that this is "way worse than not getting the Olympics!" Huh?! Following is a run-down of real right-wing reaction to this morning's news.
Glenn Beck said on his syndicated radio show today that "the Nobel peace prize should be turned down by Barack Obama and should be given to the tea party goers and the 9/12 project." Beck continued, "because of the tea party goers and the 912 project people that stood in his way and stopped him from accomplishing from the things that he thought, 'Please I'm the messiah, I'll be able to accomplish that.'" (h/t The Hill)
Matt Drudge linked to a Reuter's article and included the phrase "EMBARRASSING JOKE" in the headline. But who actually said that phrase prominently quoted on his homepage? None other than Liaqat Baloch who is also known as the twice elected president of Islami Jamiat-e-Talaba in Lahore, Pakistan.
As we reported earlier, Joe Scarborough openly mocked and laughed at the award, while guest Mark Halperin immediately compared it to Marrisa Tomei winning an Academy Award for her light-weight role in My Cousin Vinny. Scarborough later apologized via Twitter – TO TOMEI! (That was pretty funny actually.)
But its not just those on the right. Michael Moore got in the act with a congratulatory letter written to President Obama published on his website. "The irony that you have been awarded this prize on the 2nd day of the ninth year of what is quickly becoming your War in Afghanistan is not lost on anyone." This from a supporter?
But Rush Limbaugh made the stunning comment "this is a greater embarrassment than losing the Olympic bid." Again, only in the strange world of Rush Limbaugh does winning a Nobel Peace Prize equate to an embarrassment. But he didn't end there.
Limbaugh said later "I think that everybody is laughing. Our president is a worldwide joke. Folks, do you realize something has happened here that we all agree with the Taliban and Iran about and that is he doesn't deserve the award. Now that's hilarious, that I'm on the same side of something with the Taliban, and that we all are on the same side as the Taliban."
There it is — Barack Obama has brokered peace between Rush Limbaugh and the Taliban! NOW who says he doesn't deserve the Nobel Peace Prize!
Have a tip we should know? tips@mediaite.com
Colby Hall - Founding Editor