Indiana Governor Faces Backlash from Celebs and CEOs over 'Religious Freedom' Law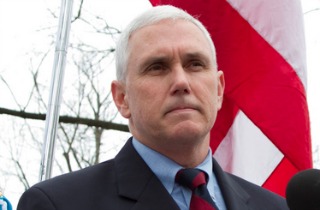 Indiana Gov. Mike Pence (R) is continuing to face tough criticism over a religious freedom bill he signed into law on Thursday that many say opens the door to discrimination against LGBT individuals.
Pence, a potential 2016 Republican presidential contender, signed the Religious Freedom Restoration Act, which prohibits the state government from placing a "burden a person's exercise of religion." Under the law, any individual or corporation will be permitted to use religion as a legal defense. Critics, though, say this means the state government is essentially allowing discrimination of LGBT individuals on religious grounds.
The NCAA expressed concern about the law, given that the Final Four is taking place next week in Indianapolis, the state's capital. While not threatening to move the location, NCAA President Mark Emmert said he is focused on making sure there is an "inclusive environment" for all tournament attendees.
As Mediaite reported on Thursday, Miley Cyrus, George Takei, and other celebrities expressed their strong disapproval of the law. In addition, Salesforce.com CEO Marc Benioff canceled the company's events in Indiana in direct response to it.
The city of San Francisco already announced its decision to essentially boycott the state of Indiana. Mayor Ed Lee (D) is forbidding city employees from traveling to the state on the city government's dime, unless the travel is "absolutely essential to public health and safety."
"San Francisco taxpayers will not subsidize legally-sanctioned discrimination against lesbian, gay, bisexual and transgender people by the State of Indiana," Lee said in a statement.
Here's a sampling of more reactions, including likely Democratic presidential contender Hillary Clinton, Apple CEO Tim Cook, actor Ashton Kutcher, and actress Audra McDonald:
Sad this new Indiana law can happen in America today. We shouldn't discriminate against ppl bc of who they love #LGBT http://t.co/mDhpS18oEH

— Hillary Clinton (@HillaryClinton) March 27, 2015
Apple is open for everyone. We are deeply disappointed in Indiana's new law and calling on Arkansas Gov. to veto the similar #HB1228.

— Tim Cook (@tim_cook) March 27, 2015
Indiana are you also going to allow Christian establishments to ban Jews from coming in? Or Vice Versa? Religious freedom??? #OUTRAGE

— ashton kutcher (@aplusk) March 27, 2015
.@GovPenceIN Some in my band are gay & we have 2 gigs in your state next month. Should we call ahead to make sure the hotel accepts us all?

— Audra McDonald (@AudraEqualityMc) March 26, 2015
.@GovPenceIN or maybe I should fire my gay band members just to be on the safe side.

— Audra McDonald (@AudraEqualityMc) March 26, 2015
.@GovPenceIN Or MAYBE…we need to stick to singing in states that don't legislate hate?

— Audra McDonald (@AudraEqualityMc) March 26, 2015
.@GovPenceIN Yep. That's what I'll do. Hey @HRC get ready for a little money coming your way from Indiana via me to you! Have at it!

— Audra McDonald (@AudraEqualityMc) March 26, 2015
[Image via Mark Taylor/Flickr]
— —
>>Follow Andrew Desiderio (@forza_desiderio) on Twitter
Have a tip we should know? [email protected]