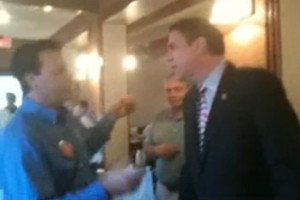 Alan Grayson's rapid tailspin into the abyss of political insanity is fantastic, entertaining, and now nearly complete. The incorrigible Florida Congressman is doing little to keep himself in office, but he sure is making a great bid to become the left's Andrew Breitbart by starring in a messy YouTube video showing him crashing a local Republican meeting to accuse them of espionage. The video speaks for itself.
Raw Story is reporting that Grayson arrived at a restaurant where the closed meeting was taking place and began to read a flier with accusations that the Republicans were spying on Organizing for America:
According to the Orlando Sentinel, Grayson arrived at a Perkins restaurant where some 30 Orange County Republicans were meeting. Amid loud catcalls, he read from a flier that accused the Republicans of infiltrating Organizing for America, President Barack Obama's campaign organization, and promised more details to come on the allegation.

"I want you to know, this is how low you've all sunk to — to the point you're spying on people," Grayson told the angry crowd. Cell phone video footage of the incident shows a number of meeting attendees demanding that Grayson apologize for crashing the meeting.
Grayson did not respond to demands to "show some class," however, and merely continued to rile up the crowd.
Grayson has already built up a reputation for having what one would call a "questionable" level of mental stability. That said, he is bold and honest in his statements and, as a Congressman, does his job. He was already chief Democratic loudmouth before starring in blurry shouty YouTube videos– now he's the top candidate to challenge the "angry left" personified by Andrew Breitbart and epitomized by the extensive FlipCam repertoire he created at this year's CPAC.
Of course there are some major differences: Grayson is a public official (for the time being); Breitbart is not (yet). Breitbart's Criterion Collection-quality CPAC work was prompted by other, left-wing journalists entering a conservative space and goading him into rage. Grayson barged into an enemy meeting looking to pick a fight. And there's the fact that Breitbart's war tactics are part of an extremely sophisticated plot to confuse and, eventually, destroy what he calls the "institutional left." There is a method to that madness that Grayson's antics seem to sorely lack.
That said, Grayson is probably the left's greatest hope at regaining mass appeal. Sensible politicians are passé. When the pundits du jour are Glenn Beck and Michele Bachmann, you have to fight fire with fire, and Grayson is the brightest burning flame they have. Or at least he was before he made a preemptive strike against his local chapter of Republicans.
Below, the Republican who confronts Grayson discusses his experience on Fox News, and the rustic YouTube video making the rounds of Grayson's intrusion presented in its pure form:

Have a tip we should know? tips@mediaite.com