January Branded Christie as a 'Bully,' February Marked Hillary as 'Ruthless'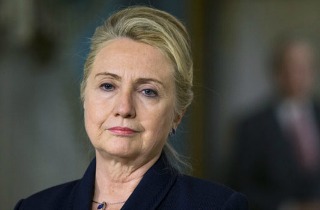 Hillary Clinton's February is shaping up to be as damaging to her political brand as January was for Chris Christie's.
Despite President Barack Obama's best efforts, the press is implacably focused on the 2016 presidential race and the vetting of that cycle's ostensible frontrunners. Scandalous revelations surrounding the actions of Christie's aides regarding the allegedly political impetus behind the closure of two lanes of the George Washington Bridge have given way to a series of spurious rumors about malfeasance in Trenton. Most of these allegations, each capturing the imagination of the press for a fleeting moment, ascended and collapsed like mushrooms after a spring rain.

In spite of Christie's ability to navigate the scrutiny and emerge personally untarred by the investigations into his administration's actions, his political brand has been perhaps irrevocably tarnished. Speculation about the governor's personal involvement in scandal after scandal has lost its luster. The press is moving on. The latest shiny object to capture the attention of the media is that other frontrunner in the 2016 race.
The winter of Clinton's discontent began with Sen. Rand Paul's (R-KY) quixotic crusade to blacken the legacy of former President Bill Clinton. Highlighting what he said was the hypocrisy of a Democratic Party that attacks Republicans for waging a so-called "war on women" while fundraising alongside an executive who took sexual advantage of an office intern, Paul brought the festering resentments of the 1990s back to the surface.
But Hillary Clinton was not touched until the Washington Free Beacon enterprisingly sent reporter Alana Goodman to survey a Clinton confidant's notes –- available to the public for the past four years but ignored by establishment media outlets. Goodman uncovered Hillary's unguarded thoughts about private matters like the Lewinsky affair and public policy matters like her preferred method of reforming the health care system.
But, above all, Goodman's reporting created a sticky narrative around Clinton that will be difficult to shake. Christie has been branded, perhaps indelibly, by the actions of his subordinates, as a "bully." Clinton may yet succumb to the negative descriptive adjective that summarizes her past actions: "Ruthless."
RELATED: HillaryWatch: Last Week Cable News Devoted 80 Segments to Hillary Clinton
To see that Clinton is the political press' newest obsession is to perform a cursory survey the media landscape. TIME magazine's Jay Newton-Small dove into Clinton's political brand on Sunday and asked whether she is "her own worst enemy." The Washington Post's Kathleen Parker lamented and accepted the "double standards" applied to Clinton's conduct that the voting public fails to apply equally to her husband.
Clinton's oldest allies have written about how little substance there is in the latest revelations about the former first lady. Some have asked the press to forego their roles as assayers of political veracities. TIME's Joe Klein surmised that Goodman's scoop consisted entirely of details about the Lewinsky matter and, as such, there was "not much there." Donna Brazile has begged the political press to ignore the 2016 frontrunner entirely. "It's really an obsession that is not only misguided but also does a disservice both to voters and candidates," she wrote.
A new generation of liberals has also weighed in on Clinton's place in the party. "Don't run," MSNBC's Krystal Ball urged on Tuesday, preferring instead the insurgent freshman Sen. Elizabeth Warren (D-MA) and her carefully cultivated progressive populist image. "[T]he Democratic dependence on Hillary Clinton hampers the development of a Democratic farm team," the National Journal's Alex Seitz-Wald wrote on Wednesday. "It's a long way off, but building a farm team of young, compelling leaders takes time, and Democrats may want to be asking themselves that question before it's too late."
This type of speculation can be self-perpetuating and has the potential to foster the development of persistent narratives, as Christie learned last month. With little in the way of new developments to ruminate on, the political media has taken to examining their preconceptions about Clinton. It is this dynamic which proved Clinton's "inevitability" was a mirage in the last decade, and history feels set to repeat itself.
In 2006, speculation swirled around Sen. Mark Warner (D-VA) as a potential anti-Clinton candidate heading into the 2008 race. When he declined to run, many believed the nomination was Hillary's for the taking.
"Former Virginia Gov. Mark Warner's decision not to run for president is a telling statement about the Democratic Party, the strength of its liberal wing, and the inevitability of Hillary Clinton's presidential nomination in 2008," wrote Quinnipiac University Polling Institute's assistant director Peter Brown in October 2006. After calling Warner the "best hope for party moderates," Brown wondered if Clinton could shatter the Republicans' winning collation.
"Of course, politics abhors a vacuum, and someone will become the anti-Hillary candidate in the primaries," he concluded. "But given a lack of other Southern Democrats of Warner's stature, it is unlikely that candidate will have his potential to change the electoral map."
Today, it is Clinton who represents the "best hope for party moderates" in today's rebranded Democratic Party. But the eternal search for an anti-Clinton remains as constant as the weather.
Americans were never treated to the Rudy Giuliani v. Hillary Clinton 2008 campaign the polls had promised in the years leading up to that election. As the early months of 2014 have indicated, the public may not get the Christie v. Clinton race they have been expecting in 2016.
[Photo via NYT]
— —
> >Follow Noah Rothman (@NoahCRothman) on Twitter
Have a tip we should know? tips@mediaite.com