Joe Biden To Lindsey Graham: 'I Will Rip Your Skin Off,' 'And I Expect A Thank-You Note'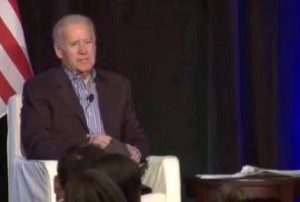 In an April 26 forum at The McCain Institute for International Leadership, Vice President Joe Biden expressed his admiration for Sen. Lindsey Graham (R-SC) in his own irreverent fashion. In a conversation with Sen. John McCain (R-AZ), Biden said that he would do whatever he could to help Graham win his reelection bid next year. The vice president said he would be happy to campaign for him or against him, promising Graham that he would "rip your skin off" if that would cement his reputation as an enemy of the Obama administration among South Carolina's Republican primary voters.

RELATED: Joe Biden Makes Hilarious Pre-Inauguration Gaffe: 'I'm Proud To Be President Of The United States'
"No matter what the hell he says about me, I still like him," Biden told the crowd, pointing to McCain. "This is a man. This is a man."
"We've been in the same side in many battles and we've been on opposite sides," Biden added in reflection on his career in the Senate alongside McCain.
Biden turned to Graham. "I told him I'll come to South Carolina and campaign for him or against him, whichever will help the most — I know which it'll be," he said to laughter. "I'm going down there to do the JJ next weekend, Lindsey, and I assure you I will rip your skin off for you, and I expect a thank-you note."
Watch the clip below via The Sedona Forum:
h/t Roll Call
> >Follow Noah Rothman (@NoahCRothman) on Twitter
Have a tip we should know? tips@mediaite.com