John Roberts Switched His Position On Obamacare Before Final Ruling, CBS News Reports
Roberts Switched His Position On Obamacare Before Final Ruling, CBS Reports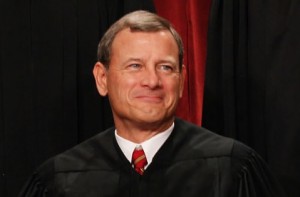 Chief Justice John Roberts not only sided with the more liberal Supreme Court justices, but wrote the majority opinion, which pretty much threw everyone for a loop. There have been all sorts of theories as to why Roberts voted the way he did, running the gamut from Roberts' desire to protect the court's reputation to his epilepsy medication. Whatever the case, according to CBS News, sources close to the Supreme Court are claiming that Roberts initially sided with the four conservatives on the bench before changing his position on the ruling.
RELATED: Fox News Watch Marvel At Media's Promotion Of Justice Roberts From 'Right Wing Goon' To 'Hero'
After the oral arguments earlier this year, Roberts initially sided with the conservatives on the court and began drafting a decision that would strike down the health care mandate. However, the chief justice was not unaware of the external pressures being placed on the Supreme Court, and did not want to face the historical consequences of overseeing the striking-down of one of the most wide-ranging pieces of legislation in the past few years. That's when Roberts began to shift his opinion and drafting his argument that would uphold the mandate as a tax, a "strained argument [that] had received almost no attention in the lower courts, which had uniformly rejected it."
After Roberts changed his position, the other conservative justices tried their best to flip him again.
Roberts… withstood a month-long, desperate campaign to bring him back to his original position, the sources said. Ironically, Justice Anthony Kennedy – believed by many conservatives to be the justice most likely to defect and vote for the law – led the effort to try to bring Roberts back to the fold.

"He was relentless," one source said of Kennedy's efforts. "He was very engaged in this."

But this time, Roberts held firm. And so the conservatives handed him their own message which, as one justice put it, essentially translated into, "You're on your own."

The conservatives refused to join any aspect of his opinion, including sections with which they agreed, such as his analysis imposing limits on Congress' power under the Commerce Clause, the sources said.
RELATED: On O'Reilly Factor, Law Professor Says John Roberts Should Resign Over Obamacare Ruling
The anonymous sources, who apparently were directly involved in the case deliberations, also told CBS that Roberts' shift "stirred the ire of the conservative justices, who believed Roberts was standing with them.
You can read the full piece from CBS here.
Have a tip we should know? tips@mediaite.com
Josh Feldman - Senior Editor