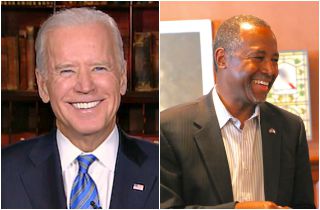 Vice President Joe Biden and Republican presidential hopeful Ben Carson are the strongest general election candidates for their respective parties, according to a new Quinnipiac University poll released Thursday.
Biden, who has yet to declare his 2016 intentions, still trails Hillary Clinton among Democratic voters by 25 percentage points, but fares the best of any Democrat in head-to-head matchups with Republican candidates.
The vice president would beat Donald Trump by 11 percentage points, 51 to 40, the poll found. Biden also tops Carly Fiorina 46 to 43, bests Jeb Bush 46 to 41, and ties Carson at 45 percent. Clinton, on the other hand, would lose to Fiorina by one percentage point, fall to Carson 49 to 42, and top Trump 45 to 43.
The new poll numbers come at a time when Biden is still mulling whether he can mount a successful campaign for the Democratic nomination, but appears to be leaning toward jumping into the race based on his demeanor at recent speaking engagements. In an interview last week, the vice president said he is "not quite there yet" on making a final decision — which he has said will be a family one — and acknowledged that "certain windows … will close" if he does not decide "in time to make it feasible to be able to run and succeed."
Sen. Bernie Sanders (I-VT), who is second to Clinton among Democratic primary voters, would lose to Fiorina by one percentage point, draw even with Bush at 44 percent, trail Carson by 10 percentage points, and beat Trump 47 to 42.
Carson, meanwhile, polls behind Trump with 17 percent support among GOP primary voters to Trump's 25 percent. The former neurosurgeon has the highest net favorability of any candidate running, the survey found, followed by Biden. Clinton, Bush, and Trump all posted negative ratings, while Sanders and Fiorina were positive in that category.
On honesty and trustworthiness — something that has dogged Clinton as she attempts to put to rest the controversy over her email practices — the former secretary of state still fares poorly. Independent voters said, 68 percent to 26 percent, that Clinton is not honest and trustworthy. On the Republican side, Trump also received negative marks, with 57 percent of all voters and 56 percent of independents saying the real estate magnate is not honest and trustworthy. Carson and Biden received the best integrity ratings, with 63 percent and 62 percent, respectively.
The poll also provided more good news for Fiorina. Twenty-eight percent of all voters and 39 percent of Republicans believe the former Hewlett-Packard chief executive won last week's GOP debate at the Reagan Presidential Library. Fiorina was originally ineligible to participate in the primetime contest, but CNN eventually amended its criteria to allow Fiorina to participate as she was surging in the polls.
The Quinnipiac University poll of 1,574 registered voters, conducted Sept. 17-21, has a margin of error of plus or minus 2.5 percentage points.
[Image via screengrab / Shutterstock]
— —
>>Follow Andrew Desiderio (@desiderioDC) on Twitter
Have a tip we should know? [email protected]