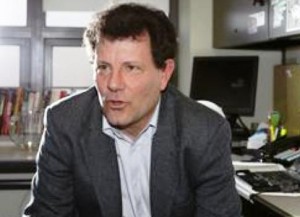 New York Times writer Nicholas Kristof flew into Bahrain today to do a report on government repression, but he was denied entry into the country and detained at the airport for a few hours. Kristof went on Twitter to complain about his detainment by going after the country's human rights abuses and pointing out that reality show star Kim Kardashian was allowed passage into the country mere weeks ago. Kristof at one point suggested creating a Kardashian-style sex tape to gain entry to Bahrain.
RELATED: Report: CBS Radio Reporter Shot At In Bahrain
After arriving at the airport in Bahrain, Kristof was detained and tweeted out the following message: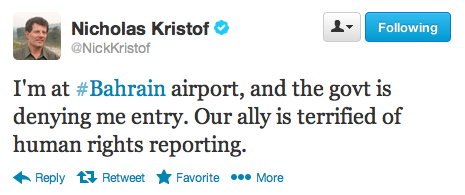 Kristof explained that Bahraini officials informed him he was on a government blacklist that prevented him from entering the country. He said the government isn't letting him in the country because they do not want "witnesses to its nightly repression in Shia villages."
But Kristof kept his little plight in perspective, pointing out in a number of tweets that Bahraini citizens are subject to worse punishments than getting held up at the airport. At one point, he remarked that people are "feeling way too sorry for me," since he's not being arrested or anything, he's just stuck at the airport and tweeting from a Starbucks.
Kristof found it amusing that he was denied access to the country while Kim Kardashian was welcomed into Bahrain, tweeting this tongue-in-cheek message to his followers:

And a few minutes ago, Kristof tweeted that he's on the plane to be deported out of the country, apologizing for not being able to do his intended report on human rights abuses in Bahrain.
h/t CNET
Have a tip we should know? tips@mediaite.com
Josh Feldman - Senior Editor