Obama, Carter, Clintons Top The Daily Beast's List Of Best-Selling Politicians-Turned-Authors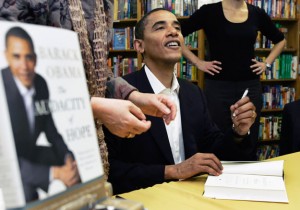 What with all the brouhaha over George W. Bush's revealing interview with Matt Lauer, you may have forgotten that the former president's memoir, Decision Points, has been released today. In honor of that occasion, the Daily Beast took a look at which politicians-turned-authors have moved the most volumes. At the top of their list? Barack Obama, whose two books combined have sold a staggering 4,650,000 copies.
One caveat about this list: the Beast elected to use Nielsen BookScan's publishing sales information, which meant that they had to limit their list to "elected officials who have either landed on a New York Times bestsellers list or published more than one book since 2001." BookScan sales data also only represents 75% of book sales, since it doesn't track copies sold at Sam's Club or Walmart.
Perhaps that's why this list skews Democrat. Obama is followed by Jimmy Carter (2,218,000 books sold; man, that guy has written a lot of books), Bill Clinton (1,899,000 copies of four books sold), Al Franken (1,777,000 copies of books including You're Good Enough, You're Smart Enough, and Doggone It, People Like You! sold), and Hillary Clinton (1,491,000 copies of four books sold).
Unsurprisingly, the first Republican to make the list is Sarah Palin at number six. Her memoir, Going Rogue, has sold 1,455,000 copies. Palin's showing is especially impressive considering she's written just one book. Then again, Obama blew the competition away despite having penned only two volumes (his third, a picture book, will be released November 16). It'll be fun to see how George W. stacks up to these heavy hitters.
Read the Beast's full list here.
Have a tip we should know? tips@mediaite.com