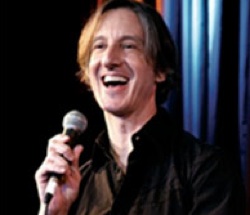 Who: Alec Baldwin, Jeffrey Toobin, Judy Gold, moderated by Andy Borowitz
What: "The Borowitz Report: Midterm Madness!"
Where: 92nd St. Y
When: October 20, 2010
Thumbs: Up

With the midterm elections around the corner, pundits are hard at work to predict the Democrats' future. Jeffrey Toobin, the lone non-comedian panelist of the bunch, guessed, based on recent polls, that the Democrats can hold onto the Senate but will likely lose the House. But quickly the conversation moved to specific races, particularly those involving Tea Party candidates, leading Alec Baldwin to chime in for the first time, holding a paper mustache to his face and proclaiming that the problem in America is "your damn rent is too high."
They discussed New York gubernatorial candidate Carl Paladino at some length – Baldwin referred to him as "an SNL skit." He said that some of this year's candidates are sending the message that "ignorance is the answer to  everything." Andy Borowitz compared it to turning Laverne & Shirley into a show entirely about Lenny and Squiggy. The Tea Party uprising, the panel said, came out of frustration that the country's problems aren't being solved fast enough. But they stressed that for the stimulus to work, Americans will have to execute more patience and restraint.
Baldwin acknowledged that the president has suffered from vicious personal attacks throughout his tenure and been forced to "zen out a bit." Toobin said that this is part of Obama's "constructed personality," a strategy to avoid being perceived as an "angry person." It could pay off for the Democrats this season. (They also praised former President Bill Clinton for stumping for Democrat candidates this season.) But the liberal crowd didn't seem convinced that Obama could restore his image. One audience member flat out asked if a majority of Americans are "idiots." That's the note on which Borowitz chose to end the evening.
What They Said
"Let me ask a substantive question: When are the elections?"
– Andy Borowitz waited until midway through the discussion to ask the most basic question

"People are pissed, understandably, and Obama hasn't done anything about it."
– Jeffrey Toobin says that the economy remains the biggest issue around the midterms

"'Don't ask, don't tell' is so absurd. They now have convicted felons who can serve yet gays aren't allowed."
– Judy Gold thinks it's time for Obama to deliver on his promise to do away with the law

"It's a threat to our freedom. We have to not stop fighting them."
– Alec Baldwin sees the Tea Party as a growing problem that needs to be addressed

"I think his level of mental health is shockingly high for a president of the United States."
– Andy Borowitz gives Obama credit for how he's managed so far

What We Thought
Borowitz, as usual, set the tone for the night with hilarious stand-up comedy about current events. More than just a warm-up comedian, Borowitz ushered the panelists to the stage to join in on the festivities. The audience was relaxed and laughing before the first question was even asked.
On several occasions, Baldwin polled the audience for reaction to major events, races, and suggestions. It sent the message to us that Baldwin carefully considers popular opinion before forming and framing his own judgments. Borowitz joked that he was just campaigning for office.
The panel pointed out that in each of the past five elections, the "draft dodger" has bested the war advocate. We thought that was as reflective as anything of how the American public votes.
PANEL RULES!
Some audience behavior seems to repeat itself panel after panel. We'll be updating a running list of "PANEL RULES!" that will help ensure that you are not the dweeb of the Panel Nerds.
Panel Nerds don't like…Zigzaggers
You caught Toobin on CNN last night and had a follow-up question about how he dealt with that guest. More generally, it seems you want to know how he handles himself in those kinds of interviews. The only issue is that you couldn't get your question out fast enough which, with a panel such as this one, allows the panelists to start ad-libbing  about where your question is heading. By the time you regain your composure, not to mention their attention, the question is no longer the focal point – you are. So instead of giving extraneous information and your own opinion, next time just get to the point.
Have a tip we should know? tips@mediaite.com