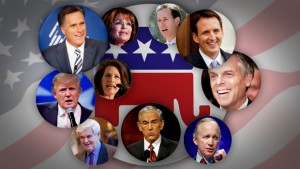 Who: Richard Just, Jodi Kantor, Ryan Lizza, moderated by Franklin Foer
What: "The Year of the Herminator: A Panel of Reporters Explain the Weirdest Republican Primary Ever"
Where: New America NYC
When: December 8, 2011
Thumbs: Way Up
The Republican race for the nomination is down to two: Newt Gingrich and Mitt Romney. That was the clear message from a group of political reporters who gathered to discuss the so-far bizarre race for the GOP nod. Moderator Franklin Foer didn't hold anything back, though, in calling Gingrich a "circus incarnate," and expressed surprise that the former House Speaker has risen in the polls in recent weeks. The panel explained that Gingrich's ascent is really the result of others falling by the wayside and thus clearing the way. But Ryan Lizza hasn't counted out the yet-to-be-named candidate who could emerge in the spring during a gap period. Everyone senses weakness in this field, and there's oppotunity to be had.
Jodi Kantor tried to make sense of Gingrich's popularity. She said that Republicans have rallied around Gingrich in the past, and that really on both sides this election season people are stuck talking about the 1990s and how things were then. And, she added, the conservative base likes his ability to stand up and challenge the Democrats. On the other side of the equation sits Romney who has not appealed as much to conservatives, and who Lizza called "mechanical" in seemingly both speech and strategy. Kantor warned that Romney could also face a real test down the line once someone pushes him to explain and defend his lone issue, the economy, and what exactly he plans to do to turn things around.
And now that it's shaping up finally to be a two-man race – the panel left candidates like Rick Perry, Michele Bachmann, and others for dead – we'll see more attacks from Romney and Gingrich. With Barack Obama's people also looking to attack Romney's record as we move closer to November, the former governor may be in store for some mudslinging from both sides. As the debates have proven, though, Obama will remain on the defensive as well all the way through about the key issues. One issue that hasn't been addressed this season, the panel noted, is the global economic crisis, which Lizza pointed out is something that can't be blamed on Obama, so it hasn't been a part of the GOP talking points.
This event was sold on the weird and wacky characters and events from the past few months, yet the debate centered more on the question of where we go from here. Herman Cain's name barely showed up, for one. It seems that it's time to get serious.
What They Said
"The thing to fixate on is not the weirdness of the weird candidates, it's the weirdness of the normal candidate."
– Richard Just believes the Republicans are scraping at the bottom of the barrel this time around

"Competency isn't going to be what they go after, lack of a core is what they'll go after."
– Ryan Lizza says that Romney's inconsistency could be devastating for him
"Presidency isn't just about rationality and making the right decision. It's about politics."
– Franklin Foer questions whether Romney has what it takes
"He's like a conductor of anxiety."
– Jodi Kantor's description of Donald Trump's role in politics
"The strategy for Republicans should be about Obama's record, not about your own candidate."
– Ryan Lizza anticipates this election will come down to feelings about the current POTUS
What We Thought
Foer did a great job keeping the conversation moving, but we were most impressed by how the entire panel was so inquisitive of each other. Not only had they done the research to read what the others had written on the subject of the election, but they also came prepared with followup questions for each other. We'd never seen this kind of preparation and genuine curiosity from panelists.
It's rare to see such a great combination of expertise and charisma from a group on stage together. They talked politics for an hour without getting too wonky for the onlookers, and they kept a serious discussion lighthearted thanks to one-liners, mostly supplied for Foer. This wasn't your same-old conversation about the election 11 months away, and we appreciated that.
PANEL RULES!
Some audience behavior seems to repeat itself panel after panel. We'll be updating a running list of "PANEL RULES!" that will help ensure that you are not the dweeb of the Panel Nerds.
Another rare clean performance from the audience at this event. Five questions asked, many more answered during the Q&A. The audience kept the panel on its toes, and also sparked further discussion about candidates, issues, and possibilities that went unmentioned. A job well done.
Have a tip we should know? tips@mediaite.com