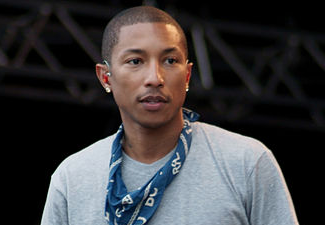 Let's get the requisite pun out of the way: looks like Pharrell thinks Hillary Clinton's going to… "get lucky" in 2016.
Whew. Anyway, in a new interview with GQ, Pharrell talks about music, the Oscars, and racial diversity in the industry. But after bringing up President Obama in talking about race and racial progress, Pharrell brings up Hillary Clinton and says she will definitely win in 2016.
He explains, "Everything is red and blue in this country. You know what else is red and blue? Blood. Blood is blue in your body until air hits it, and then it turns red. That means there's unity." How does this relate to Hillary 2016, you ask? Well…
No matter how staunch of a supporter you are of no-abortion, whatever you are: You're a woman, and there's no way in the world you're going to vote for somebody that's going to try to tell you what to do with your body. When we are a country and we are a species that has had a martian Rover traveling up and down the crevices of this planet looking for water and ice, okay, and we've had a space station that's been orbiting our planet for sixteen years—but we still got legislation trying to tell women what to do with their bodies? Hillary's gonna win. Listen, I'm reaching out to her right now. She's gonna win.
On the other hand, he's not a big fan of the "tea party guys," who he refers to as "the guys with the nigger jokes in 2014." He makes a strange claim that Miley Cyrus revealed to him: "all those girls with their Republican daddies, they're twerkin' somewhere listening to Jay Z and Beyoncé and doin' the 'Happy' dance."
[h/t POLITICO]
[photo via kallerna]
— —
Follow Josh Feldman on Twitter: @feldmaniac
Have a tip we should know? tips@mediaite.com
Josh Feldman - Senior Editor