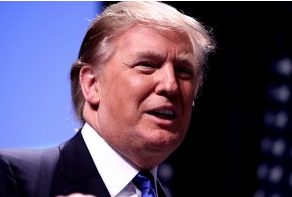 According to a new poll released Friday morning by Public Policy Polling, Celebrity Apprentice host and undeclared candidate for president Donald Trump now leads his nearest GOP primary opponent by nine percentage points. The man that Lawrence O'Donnell calls "NBC's Charlie Sheen" is showing the political world that a Birther-fueled publicity tour + a weak Republican field equals "Winning!"

Trump polled at 26% in the survey, trailed by Mau-mauer Mike Huckabee with 17%, and recently-announced mainstream darling Mitt Romney with 15%. In a few short weeks, Trump has managed to completely eclipse former media fulcrum Sarah Palin, who is polling at just 8%, still better than Minnesotans Michele Bachmann and Tim Pawlenty, who got 4% each.
A voracious political media isn't Trump's only ally. As TPM points out, Trump greatly benefits from name recognition, and from a Republican field that lacks it. Of the candidates in this poll, Romney and Pawlenty are probably the only two with a shot at success in a general election, but Romney will never make it through the primaries with his health care plan around his neck, and Pawlenty's number is so low, he would currently lose to darkhorse candidate "Margin O. Error."
In fact, the Republican candidates with the best chances for 2012 are the ones who have said they won't run, like New Jersey Gov. Chris Christie and former Florida Gov. Jeb Bush.
The bad news for Republicans is that Trump has also been making noise about a possible independent run, if he doesn't get the GOP nod. Such a run, if it materialized, would alost certainly pull votes away from the Republican candidate, and make it virtually certain that Barack Obama would be re-elected.
On the other hand, it is still very early in the campaign. At this point in the 2008 campaign, former NY Mayor Rudy Giuliani had the nomination locked up, and we all know how that ended up. There is still time for a credible GOP candidate to emerge.
Still, it's becoming harder to see how the presence of Trump's hat in the ring helps Republicans in any way. Sure, he makes other candidates look sane by comparison, but judging from this poll, that's not such an asset these days.
Have a tip we should know? tips@mediaite.com