Serial Plagiarist Benny Johnson Strikes Again… But This Time, The Victim is Himself
The Washington, D.C. area's most prolific plagiarist has struck again — and this time, the victim is himself.
In his most recent journalistic fuck-up, Benny Johnson — the right-wing blogger best known for plagiarizing content from Yahoo! Answers — wrote a story on last week's infamous Samantha Bee "feckless cunt" comment directed toward first-daughter Ivanka Trump by blatantly recycling his Barron Trump take from less than a year ago.
"I'm Old Enough To Remember When Making Fun Of Our President's Daughter Would Ruin Your Life," wrote Johnson last Saturday for the Daily Caller, just nine months after writing in the Independent Journal Review, "I'm Old Enough To Remember When Making Fun of Our President's Innocent Kid Would Ruin Your Life."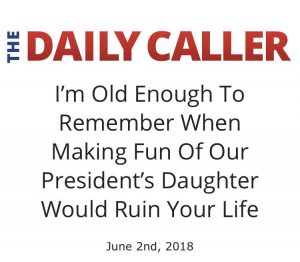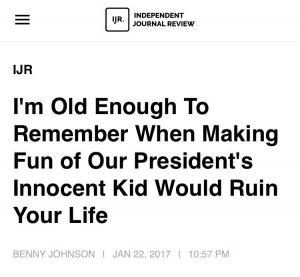 In both of these articles, Johnson claimed that Trump's kids are suffering from a "double standard" in the media, given that an ex-GOP Hill staffer who criticized Barack Obama's daughters' fashion choices lost her job, while those who mock the Trump children supposedly face no consequences.
Johnson literally just block paragraphed his old article in his new one, added some meaningless commentary making it more specific to Ivanka instead of Barron, and ran the Daily Caller piece with nearly an identical headline as his previous article for IJR.
His commentary on the coverage of Trump's kids, which includes his "cardinal rule of decent, human reporting: Do not ridicule a politician's children," is amazing not just because it's recycled, but also because Johnson himself went after Malia Obama in a Daily Caller article publishing a Snapchat video showing the former first-daughter blowing smoke rings.
For readers unfamiliar with Johnson, when Mediaite last checked in, Benny was giving the softest softball interviews to Kellyanne Conway and Sarah Sanders in which he asked them to compare their kids to CNN's Jim Acosta. Also recently — in an attempt to stir-up right-wing media outrage — Johnson posted a video of a Lamborghini and falsely claimed it belonged to the Broward County sheriff, who was under attack by conservatives at the time for his handling of the Parkland shooting. And Johnson is infamously responsible for perhaps the most cringe-worthy piece of Trump administration propaganda: attempting to meme net neutrality nemesis Ajit Pai.
UPDATE: This post previously stated Johnson's IJR piece was taken off their website. It appears the site was having internal errors causing Johnson's piece to display an error message, but now is back up.
[image via the personal collection of an anonymous tipster]
Follow the author on Twitter (@calebecarma).
Have a tip we should know? tips@mediaite.com