Twitter Rips Daily Caller for Posting Video of Malia Obama Blowing Smoke Rings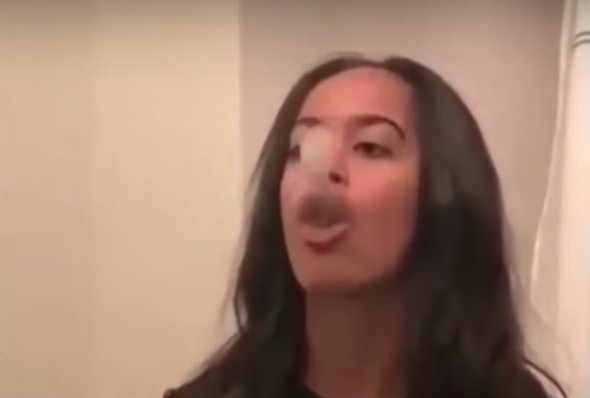 Welp, the editorial decision-making at The Daily Caller is getting curiouser and curiouser.
Newly hired Contributing Editor Benny Johnson is making a bit of a splash for his new employer, and no, it's not for plagiarism. This time, Johnson published a breathless post featuring a "leaked video" of Malia Obama ostensibly blowing smoke rings in a video that purportedly was captured in a bar restroom.
While the Daily Caller post is careful to not cast any specific judgment, the video of President Barack Obama's daughter is presented in a manner that passive-aggressively suggests guilt, despite her being a relatively normal 19-year-old college freshman at the green pastures of Harvard University.
The posting of the video–while also listing other "gotcha" moments from Ms. Obama's youth–appeared to catch the ire of many on Twitter, some of whom took turns defending the privacy of Malia Obama and blaming The Daily Caller for their decision to amplify this video:
Malia Obama should be allowed the same privacy as her school aged peers. She is a young adult and private citizen, and should be OFF limits.

— Ivanka Trump (@IvankaTrump) November 24, 2017
yo @bennyjohnson your dumb ass can't even copy-paste her name correctly in between paragraphs? pic.twitter.com/exIQsAXFT7

— Hannah Gais (@hannahgais) November 24, 2017
WATCH: The Daily Caller has nothing better to do than hassle a college student

— Mark R. Yzaguirre (@markyzaguirre) November 24, 2017
DAILY CALLER: @bennyjohnson is a lying conman plagiarist foot-fetishist whom everyone hates

ALSO DAILY CALLER: he's hired pic.twitter.com/e30naBlomk

— K.T. NELSON, JD DDS (@KrangTNelson) November 24, 2017
Lmao it owns that benny johnson failed up for so long and became a top editor at a publication despite by being a serial plagiarizer and now he's spending Thanksgiving doing this garbage. https://t.co/tULfXbUoqj

— Erick Fernandez (@ErickFernandez) November 24, 2017
Let's check in on Benny Johnson's new job at the Daily Caller…oh no… https://t.co/hLL3yvtETH

— Will Sommer (@willsommer) November 24, 2017
When Malia Obama cuts off an elephant's tail and sells our country out to the Russians call me.

— Jeremy Newberger (@jeremynewberger) November 24, 2017
Johnson recently joined The Daily Caller after parting ways with the struggling-to-maintain-relevant and right-of-center outlet IJR.com (their traffic is down 78% year over year last August.)
Daily Caller has been in the news a fair amount lately, but not necessarily for reasons they may desire. The Tucker Carlson-founded conservative website drew bipartisan ire for misquoting Jake Tapper's comments about Allahu Akbar, which they later corrected. They also raised eyebrows for hiring conservative Alt-Right firebrand (and white nationalist enthusiast) Milo Yiannopoulosfor for a weekly column, which they shortly canceled thereafter.
–Image via screen capture–
Have a tip we should know? tips@mediaite.com
Colby Hall - Founding Editor