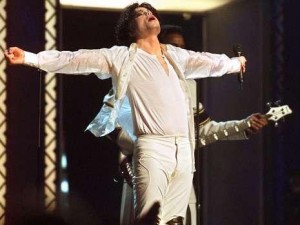 How much is your Facebook page worth to Facebook? Probably a few hundred dollars, according to a Facebook app, Viral Loop, that's collecting data as it is promoting a book of the same name. How much are celebrities' pages worth? For many, hundreds of thousands, if not millions, of dollars.
Viral Loop lets you quantify the value of your Facebook profile by weighting the traffic on your Facebook page, how many friends you have, and their Facebook activity, in addition to other factors, has begun pitting celebrities against each other in what we can only hope is an expanding feature.
We've covered Viral Loop in the past as both an interesting commentary on our times and a sly marketing strategy: as we wrote then, "what makes Penenberg's take interesting is that while promoting the book, it is also entirely topical. It would be the equivalent writing a book about eBay and marketing the book through a series of online auctions."
But the new leaderboard, available at  Fastcompany.com, takes it a step further by throwing celebrities into the mix and putting their values out on the line.
Here are some interesting findings:
Michael Jackson leads with a value of more than $2 million, nearly quadruple the value of God
Despite his Twitter dominance, Ashton Kutcher is in the middle of the pack, valued at $630,466 as of posting
Megan Fox's Facebook page is worth close to $1 million
Federer beats Nadal: $588k versus $410k
Vin Diesel comes very close to beating Barack Obama; why??
Check the full leaderboard out here. It's fun, provocative, and not to be taken too seriously, but it underscores the wealth of data available on Facebook — and to Facebook's creators.
Have a tip we should know? tips@mediaite.com