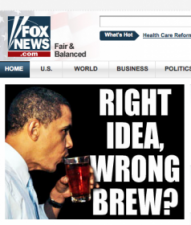 At the risk of playing the "first" card so reviled on the Internet, Mediaite called the showdown between Fox News and the Obama administration back in mid-August. Now that it's officially here, heralded by an attack-dog performance by White House Communications Director Anita Dunn on Reliable Sources and unhindered by a secret coffee date between Roger Ailes and David Axelrod, what does it mean? And which side, if either, will ultimately come out on top? A roundup of pundit reactions from the blogosphere and beyond:
First, here's what Dunn had to say to Reliable Sources host Howard Kurtz:
"Let's be realistic here, Howie, they're widely viewed as a part of the Republican party: Take their talking points, put 'em on the air. Take their opposition research, put 'em on the air. And that's fine, but let's not pretend they're a news network the way CNN is … I'm not talking about people like Major Garrett, I'm talking about the overall programming."
This in addition to an official blog that has called Fox out on biases and reporting inaccuracies, a la Media Matters. It's an unusual approach, but will it backfire and boost Fox at Obama's expense?
Conclusion: the conventional wisdom seems to be that a fight with Fox drags Obama down and brings Fox up, even if, as Amato says, the White House is right on all of their substantive charges. Attacking may fire up Obama's base, but he doesn't really need to fire up his base at this point; even with House and Senate majorities, he needs to build a broad consensus. Attacking a cable network not just on individual points but on the grounds of its existence is an oddly cablish move for a president to take, and even the non-Fox zombies of America are likely to take note.
(image via Say It Ain't So Already)
Have a tip we should know? tips@mediaite.com