Yes She Does! Looks Like Palin's Campaign For President Has Kicked Into Gear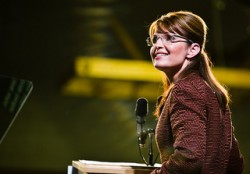 The last time I recall so much attention and speculation being showered on a potential presidential candidate more than two years before the election was in 2006 when the media started clamoring about a possible run by then Senator Barack Obama. I'm far from convinced the same fate awaits Sarah Palin, but talk of her running for President has reached a new pitch these last few days mostly due to her newly released 'Mama Grizzlies' ad, which surprisingly impressed a whole lot of people (notwithstanding Rachel Maddow). What will likely also impress (or alternately frighten, depending) is today's Politico story about Sarah Palin's political action committee SarahPac which has kicked into hard drive and is doing things that people serious about running a campaign do: namely raise money, makes lists, hire consultants.
A new financial report filed Sunday evening showed Sarah Palin's political action committee has taken its fundraising to a higher level – and suggests that she has begun building a more sophisticated political operation in place of a bare-bones organization powered mostly by her rock star status and scrappy on-line presence… It also showed continued payments for that speechwriting as well as foreign and domestic policy consulting, and its first ever payments to a scheduler.

In short, for the first time since the 2008 campaign when she was the vice-presidential running mate to GOP presidential candidate John McCain, Palin is supported by a political operation befitting someone considering a presidential run.
In short I think that's called putting your money where your mouth is.
Meanwhile, Palin was, not surprisingly, a hot topic on the Sunday shows. Chris Matthews who appears to be getting a continual thrill up his leg over the idea of Palin running for office remarked on his show that after watching the Mama Grizzlies ad it was clear Palin was "running as a mama" before quickly correcting himself and saying as a Grizzly Mama. On This Week George Will noted that "She's trying to get — flatter people by telling them — they may be grandmothers — but telling them they're grizzly bears, and it makes them feel good. On the vapidness meter, that ranks nowhere near, "We are the ones we have been waiting for," which was Obama's way of flattering the self-esteem of his supporters." Watch both clips below.

Have a tip we should know? tips@mediaite.com