CNN's Kaitlan Collins Show Is Actually Really Good — Says This Extreme Kaitlan Collins Skeptic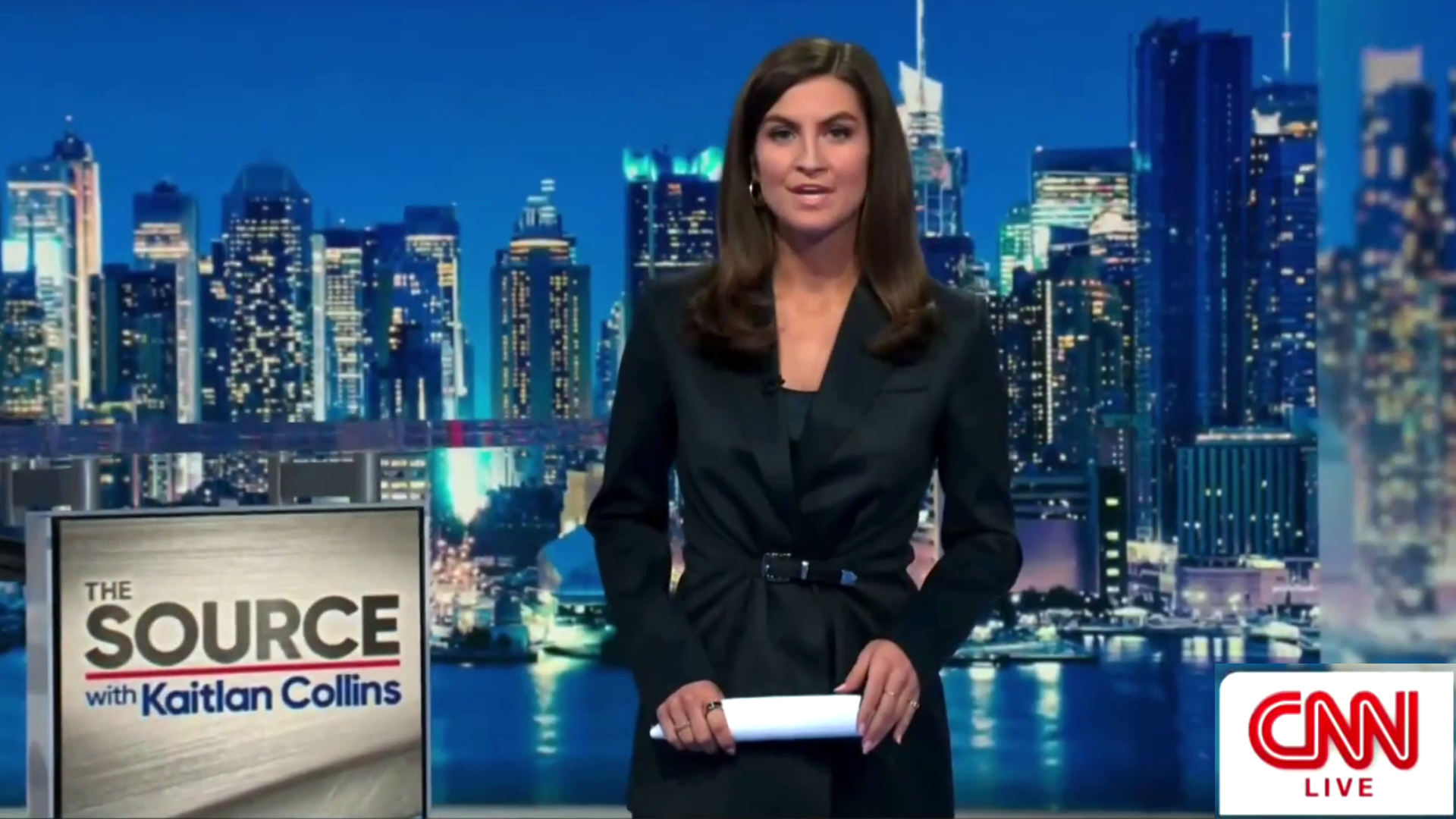 Ex-President Donald Trump and media critics — both right-wing and regular — have been attacking CNN's new Kaitlan Collins show but I'm here to tell that even as a skeptic of the host, The Source with Kaitlan Collins is actually a great show that should absolutely not be touched.
On Saturday, Trump posted a message to Truth Social — followed by a Trump campaign email — which read "ICYMI: 'Nolte: Report—'CNN Leadership Unhappy' With Kaitlan Collins and Her Dismal Ratings'."
The article was an aggregation of other reporting by right-wing Breitbart and its senior writer John Nolte, who tore into Collins in petulant and misogynist terms while declaring the show a failure.
That bombardment was based on gossip site RadarOnline's aggregation of a Puck article that took shots at The Source as a way to tar ousted CNN chief Chris Licht, while attempting to carve around the host. Dylan Byers called Collins "an impressive political correspondent, but an inexperienced anchor" and got a source to slam Licht but similarly cushion the host:
Six weeks in, Collins' show has shown little substantive growth and draws roughly a third of the audience that Rachel Maddow and Alex Wagner average on MSNBC, and a quarter of the audience Sean Hannity draws on Fox News. Her greatest contribution to the network still seems to be in her reporting, which she continues to do at a clip, despite her hosting duties. "Kaitlan Collins will go down as Chris Licht's original sin," one veteran news broadcaster observed. "She was the perfect high-visibility White House Correspondent for the Trump years, [and] a rare American in coastal network media." Unfortunately, this person continued, Licht was "unable to recognize when an employee is doing what they were meant to do." Moreover, Licht never put Collins through the various training stages—weekend show, daytime show, etcetera—that anchors usually endure before taking on primetime. "She is blameless," this person added. "She was in the perfect job for her."
There are a number of problems with this, not the least of which is that the ratings figures cited do not take into account the situation Collins took over in July — just weeks after CNN lost to Newsmax in that timeslot for the first time ever.
Ratings are a great example of that Benjamin Disraeli truism "There are lies, there are damn lies, and there are statistics" — you can cherry-pick a comparison to prove any point you want. But Collins has  grown her audience since the show's launch and her ratings are trending up according to Nielsen data furnished by CNN:
The show's viewership has grown vs. launch week, with last week (8/14-8/18) up +65% among P25-54 (172k vs. 104k) and +51% among P2+ (551k vs. 834k).
Last week was also up vs. prior 4 weeks among P25-54 (+29%: 172k vs. 133k) and P2+ (+29%: 834k vs. 644k).
In August-TD (7/31-8/18), The Source is up by double digits vs. prior 4 weeks among both P25-54 (+21%: 160k vs. 133k) and P2+ (+19%: 766k vs. 644k).
At a bare minimum, The Source should be congratulated for stopping the bleeding after Licht's disastrous tenure. But indications are the show is on the way to doing much more than that.
In any case, ratings are a poor metric for CNN, as that last stat demonstrates: more than their competitors, CNN's ratings are buffeted by the unpredictability of the news cycle. Their currency is twofold: news value and credibility.
Here's the part where I establish my skeptic bona fides — just in case anyone thinks I'm in the tank for Collins or CNN.
I am not one of these people who likes somebody just because Trump hates them — Joe Scarborough can still go jump in a lake for all I care, even if he does turn anti-Trump phrases well these days.
There are still many people who don't know Collins got her start on the White House beat writing for the Tucker Carlson-founded white grievance rag The Daily Caller. Collins was a reporter for the outlet while it was run by Carlson, and was promoted to White House correspondent in January of 2017 — where she did shit like defending Trump's attacks on the media.
After moving to CNN to cover the White House, Collins distinguished herself with adversarial reporting, questions, and commentary during the Trump years. She has been a frequent up-and-comer on Mediaite's Most Influential list.
And while CNN's town hall with Trump was widely derided for its showcasing of Trump's lies, attacks, and abuse of Collins as the moderator in front of a hooting, cheering, and laughing crowd that encouraged him every step of the way, Collins was widely praised for standing toe-to-toe with Trump — and drawing out some newsmaking admissions.
My initial read on that town hall was that Collins let far too much go through, especially Trump's disgraceful defamation of the woman he sexually abused. But I've since come around to the belief that the only solution would have been to cut his mic right then and there — not a call that Collins could make.
After a stint co-hosting CNN This Morning, Collins was tapped to host The Source with Kaitlan Collins in the 9 o'clock hour.
Now, for every Trump fan who hates Collins for standing up to Trump, there are those of us who still side-eye Collins for having worked for Tucker Carlson. That's not a sin that's easily forgiven. And Collins is just as susceptible as anyone at CNN to promoting dopey media narratives and right-wing talking points. I fully reserve the right to call out her show and her network at any time.
But her performance in the 9 o'clock hour has been nothing short of superb. As Byers noted, Collins continues to contribute important reporting, but her show has also become known for newsworthy interviews like her epic sit-down with former Trump AG Bill Barr. Her insights into Trump have become nearly as canny as those of foremost Trumpologist Maggie Haberman, a huge asset when it comes to leading political panels and conducting interviews with central figures in the sprawling Trump saga.
Speaking of which, The Source gets incredible bookings of central figures in the hottest stories — no mean feat in an environment in which the current Republican Party is almost uniformly hostile to the network.
Despite my skepticism — or even because of it in a way — Kaitlan Collins has developed something else that's more important to a CNN anchor than anyone else: after her work during the Trump years, she has a journalistic authority that approaches that of colleagues like Jake Tapper and Chris Wallace. No one is going to accuse her of being in the tank for the libturds and Democraps.
Licht was gulled by the squawking of the right into ruining his network — here's hoping the current management ignores the bleating about Kaitlan Collins and leaves her right where she is.
This is an opinion piece. The views expressed in this article are those of just the author.