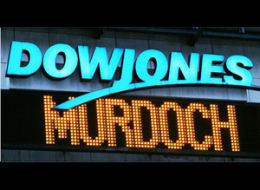 As the debate over health care reform continues to dominate the news, there is the inevitable criticism of media bias on both sides of the debate. Aside from their editorial pages, the Wall Street Journal is well known for its unique focus on reporting facts, keeping its reputation as an unbiased source of news untarnished. But since its acquisition by Rupert Murdoch's News Corp. two years ago, has the WSJ succumbed to the alleged bias that has afflicted other News Corp. properties Fox News and the NY Post?
Early last month the WSJ published a straight-news report on the then current tactics used by the White House in the health care debate that raised a few eyebrows. Janet Adamy and Naftali Bendavid filed the following report in an article entitled "Lawmakers Rethink Town Halls:"
The health-care debate was supposed to play out at rallies and inside gymnasiums when lawmakers headed home for the August recess.

But after a series of contentious town-hall meetings, some Democratic lawmakers are thinking twice about holding large public gatherings. Instead, they are opting for smaller sessions, holding meetings by phone or inviting constituents for one-on-one office hours.

Democrats have accused Republicans of manufacturing the opposition by organizing groups to attend the events and encouraging disruptive behavior. Republican organizers say the unrest reflects genuine anger about the proposed health-care changes.
An innocuous enough lede — certainly germane to the ongoing debate. However, the follow up paragraph's feature two quotes, both of which are clearly anti-Democrat in nature:
"Democrats may think that attacking or ignoring this growing chorus of Americans is a smart strategy, but they are obviously forgetting that these concerned citizens are voters as well," said Paul Lindsay, a spokesman for the National Republican Congressional Committee, the House GOP's campaign arm.

Rick Scott, who leads Conservatives for Patients' Rights, a group that has helped publicize the local meetings, said: "The polls reveal the real picture of what is happening across the country — people are genuinely concerned, some are genuinely angry, and they are expressing themselves."
One could argue that this is appropriate, since the article is about the Democratic lawmakers under pressure from large style town halls. But no where in the article is there any quote taking an opposing view from the stated thesis: that Democratic lawmakers, were at the time, getting their rear-ends handed to them in the Town Hall formats.
Criticism of a conservative slant to the WSJ has been growing in the past few months. There was piece published a couple of months ago by Neil King Jr. and Jonathan Weisman that labeled President Obama as a "micro-manager", with an inevitable comparison to Jimmy Carter. Further, the recent headline titled "Taliban Now Winning" sparked similar questions of bias from ForiegnPolicy.com.
Since News Corp acquired WSJ parent company Dow Jones in August of 2007, there have been few critics or perceptions of bias in the financial paper. But that is beginning to change with increased political rancor brought about by the debate over health care reform. Are we starting to see a new era for the WSJ?
Update – David Carr gives merit to this idea:
Many fans of The Wall Street Journal worried that the newspaper would become a cat toy for Rupert Murdoch after he bought it, but the paper's shift toward a more general interest newspaper has not been accompanied by tendentious politics, near as we can tell.
He goes on to cite the "Full Court Press blog", who "found deep meaning in a recent insert into the obituary of Sen. Edward Kennedy."
Have a tip we should know? tips@mediaite.com
Colby Hall - Founding Editor