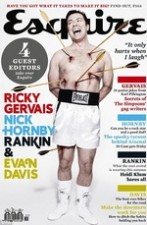 The latest issue of the UK edition of Esquire features actor/comedian Ricky Gervais shot with arrows. It's a visual reference to the famous Muhammad Ali Esquire cover from April 1966, art directed by George Lois. And that cover is, of course, a clever visual nod to the famous paintings of St. Sebastian. Our pal Jeremy Leslie at Magculture.com suggests it's time to give that particular homage a well-deserved rest. We agree; but all this homage-ing got us thinking about other magazine covers that have referenced magazine covers.
So here's a brief recent history. Our rule here is that the covers had to be a direct reference to another magazine cover; we're saving record album, posters, etc. for a future post. We know there are a lot more of these out there, so please send us your favorites.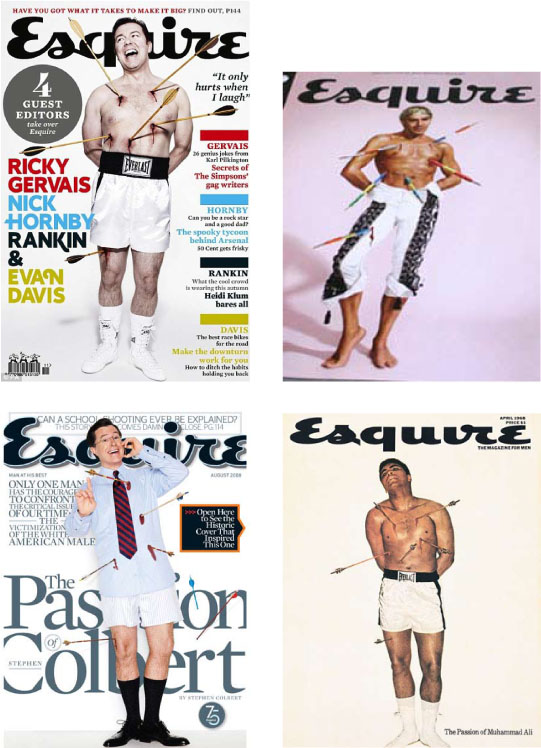 Clockwise from bottom left: Esquire, Stephen Colbert, August 2008 (art director: David Curcurito); Esquire UK, Ricky Gervais, October 2009; Esquire UK, May 2008; the original, Esquire, Muhammad Ali, April 1966 (art director: George Lois). Thanks to Magculture.com for inspiration and scans.
The terrorist fist jab and Britney's behind!
Have a tip we should know? tips@mediaite.com