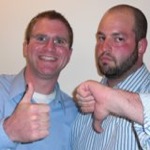 Who: Brian Stelter and Steve Rendall
What: Gelf Magazine's Media Circus "The Corporate Influence on Cable News"
Where: JLA Studios Art Gallery
When August 13, 2009
Thumbs: Up
When people talk about bias on cable news, they are usually referring to the political leanings of the networks' hosts, pundits and reporters. But recently discussion has centered more on the bias imposed by corporate influence and interests.
Steve Rendall says that cable news is a tricky term since there's very little news as part of it. He said that reporters have revealed to him that their networks won't cover certain topics because they are of a sensitive nature to parent companies. Legally, networks must cater to their shareholders' best interests, with public interest coming second.
In his recent New York Times story, Brian Stelter uncovered what happens at some of those closed-door meetings. He reported a truce that was struck between NewsCorp., which owns Fox News, and General Electric, NBC's parent company. The story made Stelter some enemies at the networks (video below).
As Stelter began to investigate these claims in June, he said that sources at the networks repeatedly compared their corporate marching orders to the pressure other reporters felt in Iraq at the start of the war. This comparison didn't sit well with him. Further complicating this matter, Stelter said, was a Fox source who indicated that the network strove to counter-balance the bias he and his colleagues saw taking place regularly on MSNBC. Stelter correctly pointed out that Fox's mantra – to remain "fair and balanced" -had turned into something else altogether – a spirited need to provide "balance" between networks.
Both Stelter and Rendall pointed to ombudsmen as the solution. As of now, outside groups have stepped in to monitor the networks for accuracy in reporting. But Stelter urges the networks to appoint their own ombudsmen to chime in during broadcasts when they hear misleading remarks. While he thinks we're a long way from seeing networks address their own issues on air, he says it's good that someone, whether competitors or critics, is watching the networks closely.
What They Said
"The media could have done something about it. They could have put out that fire well before. It shows a real double-standard. If Michael Moore said that about people on the right, it would be a far different story."
– Steve Rendall says that the birthers should have been handled better when they first emerged
"If I was CNN, I'd do Twitter on TV. I'd take the top story that hour and cover that."
– Brian Stelter would change many things about cable news
"When people ask me how to save the future of journalism, I say 'Let's take a step back and figure out what's worth saving.'"
– Steve Rendall doesn't have the business model to procure a sounder foundation for news reporting.
What We Thought
We liked Stelter's point that CNN has come out being perceived as the most reliable of the news channels. It's also to some degree been labeled as the dysfunctional one.
Rendall said that its not accurate to judge based on ratings, where Fox News is #1. He said that Bill O'Reilly salaciously panders to porn stars and other attention-grabbing guests. Say what you want about MSNBC's hosts or bias but at least the network sticks to the issues.
We liked the passion that these two panelists brought to the discussion. They provided both anecdotal and documented evidence to back up their claims. In discussions like this one, it's important to hear both reflections on what they see happening on television each day and also what the research and statistics substantiate.
PANEL RULES!
Some audience behavior seems to repeat itself panel after panel. We'll be updating a running list of "PANEL RULES!" that will help ensure that you are not the dweeb of the Panel Nerds.
Panel Nerds don't like…9/11 Sleuthers
9/11 was a terrible tragedy. But you don't have to seek it out as the cause of every mysterious wrongdoing. Even if you think that we're still dealing with a litany of new laws and repressive governmental acts from then (which you do; that was clear), that doesn't mean it has anything to do with the delivery of cable news. 9/11 isn't the cause of everything.
Panel Nerds Etan Bednarsh and Danny Groner are New York-based writers and avid panel-goers. Want them at your panel? Email them here: PanelNerds@mediaite.com
Have a tip we should know? tips@mediaite.com