Ann Coulter On Fox News: Chris Wallace Deserved To Be 'Punched' For Rick Santorum DADT Debate Question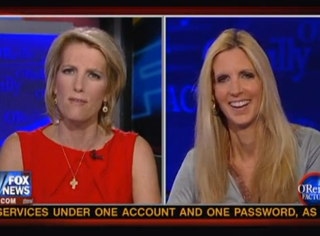 Chris Wallace's heated interview with presidential hopeful Rick Santorum yesterday on his opposition to repealing Don't Ask Don't Tell returned to the fore of the Santorum campaign his social conservatism, but not in a way that would render Wallace immune to scrutiny, even on his own network. On The O'Reilly Factor tonight, Ann Coulter slammed Wallace in response to a question by host Laura Ingraham, arguing that race and sexual orientation were not socially interchangeable, and that guest Juan Williams "should have punched" Wallace for conflating the two.
RELATED: Chris Wallace Takes Rick Santorum To Task For His Gays In The Military Comments
"I thought it was an outrageous question," Coulter responded, initially taking objection to "some quote" Wallace used against Santorum that employed terms like "social experimentation" that sounded somewhat like terms used for those opposed to racially integrating the military. "I thought Juan Williams should have punched Chris Wallace in the face for saying that when he came on in the same half of the program," Coulter commented, adding that she was "sick of people comparing gays to blacks." "You can see that someone is black; you can't see whether someone is gay."
RELATED: Audience Members Of GOP Debate Boo Steven Hill, Gay Soldier Serving In Iraq
Coulter ended her point noting that being gay was not in opposition to Don't Ask Don't Tell, but only bringing attention to one's sexuality was, and even that only in explicit ways. She noted that under DADT, famed leaker Bradley Manning was "listening to Lady Gaga while downloading files that he is about to give to Wikipedia [sic]" without being particularly disturbed, apparently as proof that the policy was not that oppressive.
The segment via Fox News below:

Have a tip we should know? tips@mediaite.com