Bernie Goldberg To O'Reilly: Both Liberals And Conservatives Guilty For Politicizing CT Shooting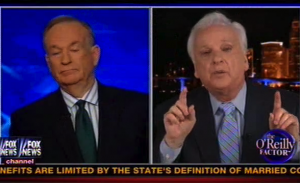 Bill O'Reilly brought on Bernard Goldberg tonight to take on the almost immediate politicization of last Friday's tragic shooting at an elementary school in Connecticut. Both O'Reilly and Goldberg agreed that the liberal media was very quick to jumpstart the gun control debate, but Goldberg acknowledged there was a fair amount of politicization on the right from people who he said want assault weapons not because of the Second Amendment, but because of their paranoia over the government coming to take away their guns.
RELATED: MSNBC's Alex Wagner: Hopefully CT School Shooting Will Result In 'Political Capital' To Reform Gun Laws
O'Reilly was amazed at how it "took minutes" for liberal pundits to direct the story from the horror emerging out of Connecticut, playing a clip of MSNBC's Andrea Mitchell commenting on gun control hours after the shooting. O'Reilly told Goldberg he avoided the "political stuff" on Friday because he didn't find it appropriate, and criticized the liberal media for prioritizing "their political agenda… over any humanistic concern."
Goldberg said there needs to be a "reasonable period of time" for mourning after a tragedy, and acknowledged that voices in the conservative media were pushing their agenda right after the shooting as well. He pointed to chatter about how the shooting may have been a result of God being taken out of the classroom, and comparisons between the deaths of the schoolchildren to aborted fetuses.
O'Reilly acknowledged that there was some of that on the right wing, but not on Fox News. (He might want to check in with Mike Huckabee on that one.) Goldberg said there is more of it on the left, and while he personally agrees with an assault weapons ban, he found it disturbing that many in the liberal media decided to "not let any tragedy go to waste."
However, Goldberg indicted "big names in conservative media" for not being honest about the real reason they don't want an assault weapons ban: they want to use them because of their paranoia that the government might send troops into their homes and forcibly take their guns.
Watch the video below, courtesy of Fox News:
—–
Follow Josh Feldman on Twitter: @feldmaniac
Have a tip we should know? tips@mediaite.com
Josh Feldman - Senior Editor