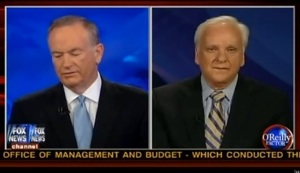 Last night Bill O'Reilly had on Bernie Goldberg as guest to discuss, among other things, the recent interview that CBS News' Bob Schieffer conducted with Attorney General Eric Holder. But perhaps more interesting than their predictable criticism of Schieffer for neglecting to ask about the voter intimidation case in Philadelphia, was the opening discourse on HIllary Clinton's future run for President against Barack Obama in 2012.
Goldberg opened the segment by explaining the theory that he had earlier posited on his website, titled "Wanna Bet?" And while he hedged by saying that he's "going out on a limb," and called a 2012 Presidential run by Hillary a "long shot," Goldberg did assert that she "will challenge in 2012." He framed his comments last night on O'Reilly thusly:
What I said on the website is I'm going out on a limb. I think she will challenge in 2012, but I understand this is a long shot. All I'm saying is that it is no longer a crazy idea. Here is why. Independents one year ago – just one year ago – supported Barack Obama with 56% of their vote. Today, it's down to 38%. African-American voters will not forsake Barack Obama, we know that. White Liberals normally would never abandon the first black president not if it means voting for some vanilla liberal democrat white guy. But, if they get a chance to vote for Hillary Clinton, they can make history twice. The first time they elected the first black president. The second time it will be the first woman president. and if this will go a long way in easing their white liberal guilt which normally knows no bounds. Now, if things change, if the economy takes off, if unemployment drops, if the tooth fairy leaves, you know, a couple of trillion dollars under Barack Obama's pillow, type. But if miracles don't happen all I'm saying is keep an eye on Hillary.
Keep in mind that Hillary Clinton is not only one of the most respected political figures in the world, but she's the sitting Secretary of State serving the Obama administration! If she were to opt to run for President against Obama, it would be an historic political development for a variety of reasons. Least of which, the former bitter primary rivals in the 2008 would, theoretically at least, go through another round of fierce campaigning against one another. But never has the stage of modern U.S. politics seen a dramatic development of in-fighting within the same party of the sitting president. One could argue that Senator Edward Kennedy's primary challenge of then President Jimmy Carter in 1980 was a similar development, but Kennedy was not sitting on Carter's administration at the time (as Clinton is now.)
Cynics might see the timing of this story as somewhat suspect. Yes, Obama is down in approval polls, but the 2012 campaign is at least a year away from starting in earnest. Further, the notion of Hillary challenging the sitting Democratic president still seems far-fetched, but perhaps coincidentally timed with the release of the documentary We Will Not Be Silenced, a movie that claims voter fraud in the 2008 Democratic presidential primary race between Obama and Clinton.
Perhaps Hillary Clinton will risk become a political "pariah" as O'Reilly suggests in the following clip, and challenge Obama for the Democratic presidential candidacy on 2012. The more likely reason for the following segment, in the eyes of at least one media critic, is that Fox News is wisely ginning up another juicy and controversial topic to discuss in preparation of the summer news doldrums. And we will likely be following this story — and how it's being reported — right along with them.

Note – the balance of the clip focuses on the Bob Schieffer interview with Eric Holder.

Have a tip we should know? tips@mediaite.com