Coulter Battles Piers Morgan Over Future of the GOP, Reveals Her Favorite Democrat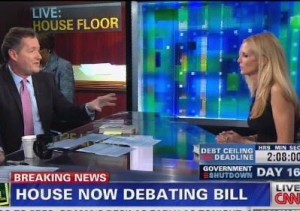 Ann Coulter joined Piers Morgan for a wide-ranging interview Wednesday night that touched on everything from why Republicans need to buckle down and need to win elections in the future to who she considers her "favorite Democrat."
Coulter opened by saying, "I consider myself the conservative ayatollah." She disputed Morgan's citation of two polls showing horrible Republican numbers, calling them "pure propaganda," arguing that it's important for Republicans to not keep caving every single time they fight with Democrats and stick to their guns like Cruz.
Morgan wondered whether Cruz has the clout to "be a real force" in the GOP, but Coulter said it's "wonderful" for the Republican party to have incredibly smart people like Cruz in the Senate fighting for them.
When Morgan interrupted for breaking news about Cory Booker's victory, Coulter told him she considers Booker her "favorite Democrat in the country," though she predicted she would have to reconsider once he gets in the Senate.
In the second segment, Coulter lamented how Republicans keep running people like Christine O'Donnell in states where they have no chance, saying that while she'd like to have as conservative a party as possible, the GOP needs to win elections and it needs to be realistic about that. She said the party would do well after Obama's gone, because "as long as you don't run Todd Akin, I think we'll do just fine."
Watch the video below, via CNN:
[photo via screengrab]
— —
Follow Josh Feldman on Twitter: @feldmaniac
Have a tip we should know? tips@mediaite.com
Josh Feldman - Senior Editor