Ed Schultz Devotes 'Psycho Talk' Segment To Fox & Friends Christmas 'Dangers' Coverage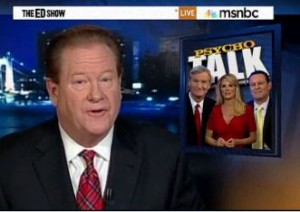 Christmas is a time to be open and forgiving, but not if you work in the world of cable news. And on MSNBC yesterday, Ed Schultz dumped a huge pile of coal on Fox & Friends for focusing on some of the lesser-reported aspects of the holiday season involving possible new EPA regulations and potential lawsuits you could face over the holiday season. I always just assumed the "Psycho Talk" segment was devoted to, you know, psycho talk. But Schultz honed in on the threesome not for anything they said, but for their "unseasonal" tone.
The first story Schultz raised his eyebrow at was a report that the Environmental Protection Agency is placing new restrictions on coal power plants that could cost up to $2000 for an average household. According to Forbes, these restrictions will not actually be implemented until 2015, but energy providers are being pressured to make the transition as quickly as possible. The angle Fox took on the story was that this could end up costing people more to put up Christmas decorations next year.
RELATED: The Beagle Has Landed: Ed Schultz Introduces The World To Rex The 'Republican-Hating' Dog
The other story Schultz couldn't believe was being addressed by "Steve Douchey" (let's assume that was deliberate) and crew was a guide to what could lead to a lawsuit during the holiday season. Based on what Schultz showed, there was nothing particularly egregious about the segment. Legal analyst Peter Johnson came on to tell viewers to be careful of tree fires and egg nog, and to make sure you have the right insurance should the worst happen. There's also a brief clip of Steve Doocy in black & white shouting, "Yeah, Fox News! Merry Christmas" for no discernable reason.
Schultz' biggest peeve during the segment was that Fox & Friends normally loves Christmas and talking about the War on Christmas™, but their Christmas coverage has been "exploiting" the holiday. Here's where Schultz is really stretching. The EPA regulations are pretty newsworthy and are bound to spur some human interest. Plus, there's really nothing wrong with giving viewers advice on how to avoid getting sued. I've never been sued, but from what I understand, it's something you would want to avoid.
Watch the video below, courtesy of MSNBC:
Have a tip we should know? tips@mediaite.com
Josh Feldman - Senior Editor