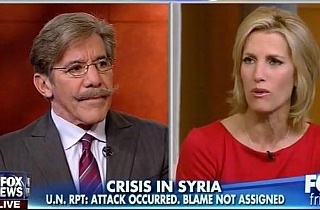 A wide-ranging and comprehensive battle of the competency of the White House's handling of the Benghazi scandal and the crisis in Syria erupted on Fox & Friends on Friday morning between Fox News Channel host Geraldo Rivera and conservative radio host Laura Ingraham. Rivera challenged Ingraham and the Fox News Channel hosts by noting that he "speaks with some authority" on the subject of military action because he has reported from recent warzones. "The United States military is not a SWAT team," he insisted.

"What's sad about this is this is actually an important issue," Ingraham began after watching a portion of a news conference Secretary of State John Kerry gave on Thursday afternoon making the case that the Syrian regime used chemical weapons against civilians.
"But, yet, when you see Kerry, he looks so desperate," Ingraham said. "America doesn't plead with the world, okay? America leads the world. And right now, we see America sadly in decline."
"John Kerry was really, in many ways, the old prosecutor," Rivera disagreed. "What I lament is he didn't then go on to the next and much more important point that the week is rapidly tolling and where is the inventory – the inventory of the poison gas that was promised at week's end?"
Rivera said that, if an inventory is not produced by the end of the week, a non-military "punitive strike" would be necessary. He defined this as declaring Bashar al-Assad a war criminal.
"None of this is ever going to happen," Ingraham responded incredulously. She and Rivera battled over whether it mattered whether the administration could ever convince the international community to support action against Syria.
RELATED: Geraldo Comes Out Hard Against Supporting 'Al Qaeda Creeps' in Syria
"Are you suggesting we should have bombed them earlier?" River asked.
"No," Ingraham replied. She said that, if President Barack Obama truly believed an attack on Syria was in the national interest, he should have done it without going to Congress for authorization.
Turing to the Benghazi scandal, and House committee hearings on Thursday into the government's response, Elisabeth Hasselbeck asked Ingraham about the Democratic House members of that committee walking out as the families of victims were preparing to testify.
"That was one of the more disgraceful things that I've seen," Ingraham said. "And there's been a lot of disgraceful things when it comes to Benghazi."
"If a Republican had done anything similar to that, they would have been destroyed all over our friends on the other cable channels and the elite media in New York and Washington," she continued.
"I cannot disagree," Rivera said. "You cannot walk out on the grieving parents of a fallen service member."
He said that the administration should have, at this point, mounted a strike on the terrorists implicated in that attack. He attacked the instinct to attack members of the administration who are being held responsible for the failure to prevent this deadly attack in 2012.
Ingraham asked Rivera why the Accountability Review Board would not interview former Secretary of State Hillary Clinton. Steve Doocy asserted that her future political career is preventing the board from pressing her on her knowledge of that attack.
Brian Kilmeade and Rivera scuffled over whether it was appropriate for members of the media to identify the administration's failures to respond to that attack as a controversy. Rivera asserted that there is no evidence to suggest that the military could have responded to that attack in time to save American lives, and assertions to the contrary are conspiratorial.
"The United States military is not a SWAT team," Rivera insisted. "As the only person I this building who's been in combat in Benghazi, Libya, and with these militia, I speak with some authority."
Watch the segment below via Fox News Channel:
[Photo via screen grab ]
— —
> >Follow Noah Rothman (@NoahCRothman) on Twitter
Have a tip we should know? tips@mediaite.com