Jon Stewart Challenges Obama On Libya Response In Wide-Ranging Daily Show Interview
Stewart Challenges Obama On Libya Response In Wide-Ranging Interview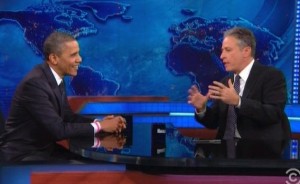 President Barack Obama appeared on The Daily Show tonight, in a wide-ranging interview that hit on everything from the debates between the president and Mitt Romney, the president's economic policy, and how the Obama administration handled the aftermath of the attacks on the U.S. consulate in Benghazi. Stewart opened by joked with the president about his poor first debate performance, with Obama acknowledging that Romney made a better "presentation" than he did. However, the president argued that Romney's policies are the same ones that got the United States into an economic hole in the first place, touting over 40 months of consecutive job growth under his administration.
Stewart asked Obama if he has a stronger case for his own reelection or against Romney's election. Obama claimed he has an equally strong case on both. He brought up his administration's accomplishments on health care reform and foreign policy, saying that he has had victories in both social and economic policy, and emphasized the importance of creating jobs and building new technologies in the United States.
In the second part of the interview, Stewart asked the president if he has changed his belief from four years ago that the U.S. cannot sacrifice its most important ideals in the name of national security. Obama emphasized that he wants to work on closing the prison at Guantanamo Bay and reign in the power of the presidency, but acknowledged that there are still "tough calls" to make as president.
Stewart challenged the president on how much "government overreach" regarding national security from the Bush administration is still in place under Obama. The president said the same programs have been "modified" and there are "safeguards" in place to prevent abuse. Stewart then brought up the administration's "confusion" in the aftermath of the attack on the U.S. consulate in Benghazi. Obama argued that "every piece of information that we got, as we got it, we laid out to the American people."
Stewart said the perception was that the Obama administration and the State Department were talking past each other. Obama said they all made sure to emphasize the intelligence gathering was still "incomplete." Stewart suggested it was "not the optimal response," to which the president said, "If four Americans get killed, it's not optimal."
The interview ended with the president making one final appeal to the audience to get out and vote next month.
Watch the full interview below, courtesy of Comedy Central:
Part 1:
Part 2:
—–
Follow Josh Feldman on Twitter: @feldmaniac
Have a tip we should know? tips@mediaite.com
Josh Feldman - Senior Editor