Joy Behar To Panel: Fox News Becoming More Moderate, But Still 'No Shortage Of Dicks At Fox'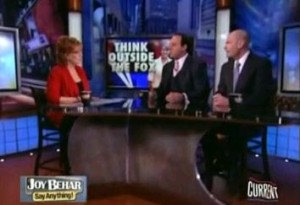 Current TV host Joy Behar weighed in on Fox News Channel's decision not to renew their contract with former contributor Dick Morris on Thursday. She said that Fox News' audience may miss Morris' insight, but they should not worry. "There's no shortage of dicks at Fox," Behar observed. Her panel guests, meanwhile, noted that the network has jettisoned its more conservative guests and is courting moderate Republicans to replace them.

RELATED: Breaking: Fox News Now Dick-Less (Morris, That Is)
"Fox News has gotten rid of Dick Morris, Oh, quel du mage!" Behar began. " Don't worry. There's no shortage of dicks at Fox."
She went on to highlight the dip in Fox News Channel's ratings since the election, and linked it to the reduced credibility the network suffered when they gave time to a variety of contributors whose electoral predictions turned out to be incorrect.
Behar singled out former Alaska Gov. Sarah Palin who "said stupid things on television" which, Behar insisted, wrecked her burgeoning career as a political commentator.
Democratic political consultant Christopher Hahn said that Morris' career had a similar trajectory. "The guy used to be a realistic political analyst who brought real data to play in elections, now he comes out with this prediction, it's going to be a landslide. Not even the most ardent Republicans were predicting a landslide in this election," Hahn said.
Bahar noted that Karl Rove has retained his position as a Fox News contributor despite his incorrect predictions. Her guests noted that Rove has retained his relevance in politics while Morris is now "a man without a country."
The segment concluded by noting that Fox News has been courting contributors like former Sen. Scott Brown (R-MA) which could help the network establish a more moderate brand.
Watch the segment below via Current TV:
h/t Newsbusters
> >Follow Noah Rothman (@NoahCRothman) on Twitter
Have a tip we should know? tips@mediaite.com