Mediaite Historical Society Presents: Colmes, Fox News' New Communist TV Show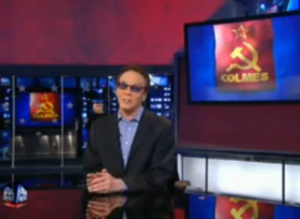 Here at Mediaite, we believe we have a responsibility of passing down our colorful history to the next generation. We do it for the children. So as we approach the second anniversary of our founding, we will be regularly taking a look back at the moments that made us laugh, cry, and throw things at our television set– but probably just made us roll our eyes at the time. Herein is the sixth installment of Mediaite Historical Society Presents:
In December 2008, cable news' premier debate couple, Sean Hannity and Alan Colmes, split up, one to host his own program and the other to contribute to the debates of many on Fox News. At the time, it was unclear to what extent Colmes would remain with Fox News or what a program without Colmes to balance out Hannity's conservatism would look like. When discussing the run of Hannity & Colmes, many tend to look back at the heartfelt goodbyes (featuring a fairly nationally unknown Tim Pawlenty!) Colmes' fans gave him, but seem to overlook the fun Colmes had with the departure in the immediate aftermath.
Five months later, on April 1st, viewers of Hannity tuned in to their program expecting an unadulterated stream of conservative talk, but what they got instead was a blood-red, dyed-in-the-wool communist news show entitled Colmes. With a Soviet anthem blaring in the background, an announcer boomed, "From Red Square to the shores of Havana, from San Francisco all the way to Berkeley, and from the West Village to the Upper West Side, Colmes is on!" Yes, really.
The news stories are fairly predictable– Why do Republicans hate baby seals?– and the guests on the anti-American panel perhaps even moreso: Bill Ayers, Sean Penn, and "Anybody from France" (Illustrated as Pepé Le Pew). And yet somehow, as an April Fool's joke, it's perfect. We're sad to report that the entire show was not done in this fashion, as much as we would have loved to watch Sean Penn debate Pepé Le Pew.
The retro segment via Fox News below:

Have a tip we should know? tips@mediaite.com