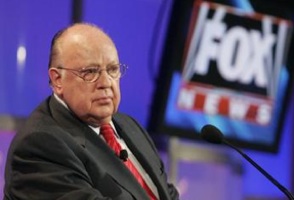 Earlier this week BusinessWeek reported that Roger Ailes earned almost $24 million last year in total compensation. The reason? Fox News' complete and total dominance in the ratings (a story we've covered extensively). But while that's certainly an impressive figure, it takes focus from the much larger and underreported story:
Roger Ailes is the most powerful political figure in America today.
In discussing the power and influence of Ailes, one has to start with the ratings – as we reported this Monday, FNC is consistently beating all other networks combined. Prime time has long been the province of Fox's dominance, but now that Glenn Beck is getting O'Reilly like numbers at 5pm, it's safe to say that they are just getting started.
But the power of Fox News goes beyond total eyeballs — their influence is actually shaping policy and taking down federal officials in an unprecedented manner. First, there is the Health Care debate – no outlet has had more influence than Fox, who went so far as to claim that the Obama Administration was attacking FNC.
Then there's the resignation of Van Jones as "Special Advisor for Green Jobs at the Council on Environmental Quality," almost entirely as a response to the investigations and allegations of Glenn Beck, who also lead thehe "9/12 Project." This not only made a lot of news (which lead to a weekend ratings win), but it forced its competitors to cover the event in a way that didn't also mention Fox News or the event planner Glenn Beck.
Most recently, of course, there is hidden camera video capturing ACORN employees behaving in ways that are not befitting of any organization – particularly one that receives so much federal funding. Nonetheless, the continued (some might say relentless) airing of that video tape effectively convinced the US Senate to vote overwhelmingly to discontinue millions of dollars of funding to ACORN, just within a week based of that hyped-up video.
Perhaps the best example of the influence of Fox News is this: on the day after Obama's Health Care speech, all other networks and news outlets were talking about Joe Wilson's outbursts. Fox News, however, was introducing the ACORN video. Which issue is a bigger story today and actually lead to legislation?
In a profile that appeared in New York Magazine in 1997, Ailes was described as "a newsman with a pronounced disdain for newsmen, and Fox News is being promoted as an anti-network, a news channel designed to appeal to people–from disaffected Gen-Xers to Limbaugh's dittoheads–who don't trust the Big Three news divisions." This was written right about the time that he was launching the Fox News Channel, and this mission has proven to be far more successful than any Manhattan sophisticate would have predicted.
In some circles its commonplace to dismiss Fox News because of their perceived poltical bent. But to pigeonhole the FNC viewership as only comprised of "right-wing nutjobs" is wrong, as so many self-defined "tolerant" media consumers often do. The sheer ratings dominance of Fox strongly suggests that the breadth of their audience crosses over the aisle to both moderates and liberals alike. Why? Precisely because of their incredible influence on the debate, and frankly, the programs on FNC are very well produced and entertaining, regardless of where you stand on the issues.

President Obama has long spoken about  renewing sense of civility in the policy debate and developing a bi-partisanship approach as goals for his administration. Yet, his administration made the odd decision to not include Fox News in an effort to drum up support for his Health Care agenda. Perhaps the smartest thing he can do is engage with FNC, since they seem to have all the power right now. Thanks to Roger Ailes.
Have a tip we should know? [email protected]